Contributor: J.M.
After another disappointing episode where guest star Alaina Huffman was criminally underused and the character development wasn't quite strong enough to sustain the episode because of an underwritten plot, we get a more conventional episode guest starring Summer Glau. This episode feels a bit stilted and rushed throughout, ironically mimicking the actual plot, much of which is spent chasing after Glau's character. We get pieces of character development here and there, but only Gary's really excels.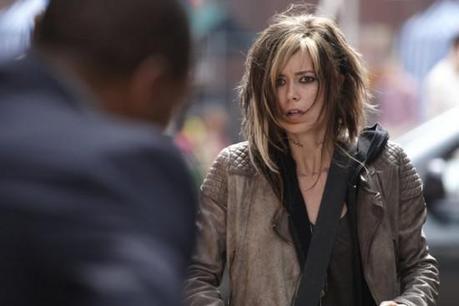 Before moving on much further, I have to give more kudos to the writers and Ryan Cartwright for creating one of the best characters on television in Gary. His autism is written and acted so realistically I have a hard time believing that Cartwright isn't autistic himself. I wouldn't be surprised if Cartwright has some kind of exposure to autistic individuals, given just how spot-on his portrayal is. The writers need credit too for not treating Gary with kid gloves and by portraying the annoying and frustrating side of autism and not treating him as the idiot savant with the heart of gold. His loyalty to Dr. Rosen and to the team and his love of his mother shines through despite his emotionally disconnected outward appearance. Even I have a hard time blaming his mother for her reaction; I can't say that I would do anything else otherwise!
As for the rest of the story, it was driven very much by the needs of the plot. I applaud the writers for continuously trying to develop the characters piece by piece in nearly every episode, but the execution really didn't hit well in this episode. The follow up to Bill's major development in the previous episode felt a little rushed, as we didn't see anything relating to his desire for children before. In some ways it would be better if the writers didn't try and resolve everything in a neat way with Bill at the end of every episode. It's clear that they've got a character arc planned out for him, but they're a little too check-the-boxes in each episode.
For Nina, we get another tantalizing picture of her history as one of the Alphas who's been with Rosen the longest. It helps explain some of her poise and ease when dealing with a lot of the situation the team gets themselves into, and it's an interesting tactic having her as the kind of bedrock for the team, given her self-absorbed and impulsive nature. But the writers have been guilty of simply hand-waving at her mysterious past without being specific enough to give her plot any kind of emotional weight. It's a shame, because I'm convinced that she's got the most potential out of any of the group.
Summer Glau gets a better showing than Alaina Huffman, the other high profile guest star in recent episodes, but the really got stuck with a role that was told than shown, in the traditional sense. We never really got to see Glau act like her character was supposed to be built as a rebellious, conspiracy-theory embracing 'free-spirit.' Instead we got told by the other characters that she was rebellious and a conspiracy-theory embracing 'free-spirit.' It was another disappointing use of a high profile guest star.
But all in all, it wasn't a terrible episode, but indicative of a trend of uneven quality that has really hampered the show because of the huge potential that it's demonstrated. We get another, less nuanced look at the government agents behind Binghamton, in a way that really typifies the episode as a whole.
Writing: 1/2
Acting: 2/2
Production: 2/2
Style: 1/4
Rating: 6/10