Contributor: Gregg Wright
In this episode of "Eureka", an overflow of dangerous gases from a Titan simulation chamber threatens the town. This predicament is relatively interesting, and serves to educate us on the gases present on Titan, and the type of conditions the Astraus crew will be facing there. But when stacked up against other threats faced by Eureka this season, I can't help but feel that it falls a bit short. I think I would have been more interested if it had actually related to the Titan rover in some way.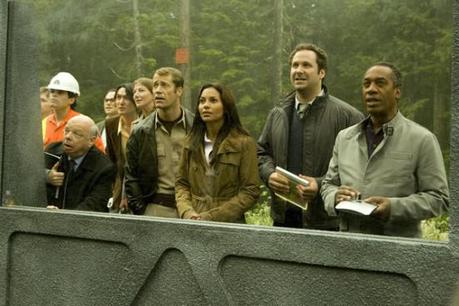 Also, I thought the handling of the relationship issues facing Jack/Allison, Zane/Jo, and Fargo/Holly were a bit more forced than usual. Though there were some good moments, like Fargo telling Holly that he likes BOTH "Star Treks", proving that he's my kind of "Star Trek" fan and putting at least one of Holly's relationship fears to rest. In addition, I liked Zane's realization that he'd given Fargo the wrong advice, and his attempt to rectify his mistake. Actually, I think Henry and Grace subplot was the one that worked the best, which I'm starting to think may have been the case in previous episodes as well.
It's always fun to see Wallace Shawn in anything ("Inconceivable!"), and I thought he was utilized fairly well here. Shawn had a couple of great humor moments this week, like his ill-informed proclamation of "Like photosynthesis! I loved science class!" Or his unexpected show of strength: "I can bench press twice my weight!" It is a bit disappointing that he has so little faith in Jack and Allison's relationship.
Warren Hughes' ultimatum to Jack and Allison to choose between their relationship and their jobs sucks a bit of the enjoyment out of seeing Shawn presiding over Henry and Grace's wedding. I'd be happier with his decision if it was part of some ulterior motive. I wonder, if Jack and Allison got married, would that allow them to keep their jobs? The hints dropped in the episode seem to strongly suggest that this is where things are heading.
It's interesting, though not entirely surprising, that there's been no further illumination of the Consortium's plans since they stole information from GD. I'm still assuming that it must have something to do with the Astraeus mission, which seems likely to launch in the finale. It also seems unlikely that the return of the Consortium would be held off until next season. But with no more clues to work with, your guess is as good as mine.
Relationships are very much at the forefront of this episode, even as preparations for the Astraeus mission continue to progress and another technological dilemma threatens the town. As usual, there's a lot to like here. But overall, I found "Clash of the Titans" to be a bit weaker than what the average has been for this half of the season.
Rating: 7/10