Contributor: Gregg Wright
The Astraeus applicants have been whittled down to a pool of trainees who now compete for the 21 spots on the mission. Fargo narrates another amusing commercial that sets the stage for the episode. (I rather hope he continues doing these updates right up to launch day.) In the midst of all this, Carter must deal with another town-threatening anomaly, while the Consortium secretly begins putting their plan into effect.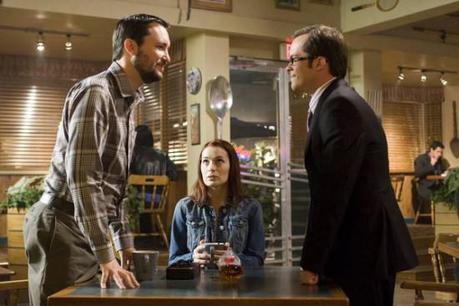 The Astraeus applicants are being put through the ringer in something of a boot camp in order to physically prepare them for the mission. Jo is, of course, given the role of drill sergeant; a job that she takes very, very seriously. The interesting thing about the training is that seemingly anyone can participate even if they didn't make it past the initial selection process, and then be considered as a backup if a spot opens up. So now Fargo, Holly, and even Fargo's nemesis, Dr. Isaac Parish, are involved in the training. Carter doesn't join in, and doesn't seem interested in going. But I still get the feeling that the star of the show will end up in space, somehow.
Colin Ferguson was absolutely hysterical in this episode. The fun starts with his initial reaction to the bank robbery. I couldn't help but be reminded of Barney Fife's equally ecstatic reaction to a crime being committed in the town of Mayberry. This wouldn't be the first time "Eureka" has purposefully referenced "The Andy Griffith Show". But where Ferguson really knocked it out of the park was with the scene in the floating bank. Carter's girly scream over seeing the ground rapidly speeding away from him was one of the funniest things to ever happen on "Eureka". I don't know whether that set was built on gimbals or not, but Ferguson's performance is impressive enough even if it was. Seeing Ferguson falling all over that perpetually tipping bank, along with the perfect delivery of lines like "Noted! Unstable bank!" was simply a riot.
No extra points for guessing that Carter's jeep wouldn't be saved by Henry's Osmium-coating. Speaking of which, did anyone else notice that Henry just broke some poor kid's bat? I didn't notice that until I went back to watch that part. It's kind of funny that Henry is so nonchalant about it, but if you think about it realistically, it's kind of a dick move. It doesn't bother me really, because I doubt the writers took this into account. They just needed something for Henry to break on the hood of the jeep.
"Eureka" can be pretty unrealistic, but there's usually a fair amount of real science in the show. The Higgs field, which may be what gives particles in the universe their mass, is still theoretical. But the idea is currently receiving a lot of support from the scientific community. Osmium, which is generally considered to be the densest element found in nature, is also one of the heaviest (apparently, plutonium is the heaviest). I'm still a little baffled by the differences between atomic mass, atomic weight, relative atomic mass, average atomic mass, object density, etc. But as far as I can tell, I think "Eureka" didn't make any glaring errors. Though I'd need to ask a real scientist to be sure. Anyways, the result is that the heaviest stuff in "Eureka" is what starts to lose its mass first, which results in an actual demonstration of what we've been seeing in the intro of the show since the beginning.
I have to say, I'm really liking the Zane in this timeline. He's more of a combination of everything that was great about the early Zane and his softer, more admirable side. I love his attitude toward Jo in the training scenes, and the fact that he's training even though he knows that he's ineligible for the mission. I still remember very little about how Zane and Jo's relationship progressed in the previous timeline. I remember that Zane started out much like he did in this timeline when we first saw him, and eventually won Jo over. I didn't think of their relationship as flawed, but it seems as though it has the potential to be even stronger this time through, seeing as how they're developing a mutual respect for each other.
Aside from the Astraeus mission preparations, the Higgs field mess, and the progression of Zane and Jo's relationship, there are some major developments for Allison. It quickly becomes clear that her blackouts have something to do with those pesky implants, especially when it's revealed that during one of them she was busy planning to take over GD while Fargo is gone on the mission. Apparently, Beverly was physically taking over Allison's body during her blackouts, and the only thing that was keeping her from taking over completely was the Higgs field disruptor. I can see why taking over GD might be advantageous for the Consortium, but they must have some specific goal in mind. The timing of this take-over seems to suggest that it has something to do with GD's recently acquired capacity for faster-then-light spaceflight.
The second half of the season is still going strong. I'm really quite satisfied, overall, with the quality of the show lately. The sense of direction provided by the Astraeus mission preparations and the Consortium machinations is exactly what the show needed at this point, and the episodic plots have been generally good so far. This story didn't tie in very directly with any character arcs, but there's enough character development going on in the background (mostly relating to the mission preparations) that it doesn't matter too much. And besides that, the Higgs field disruption results in some of the most humorous and fun material seen on the show to date.
Rating: 8/10