Despite the disappointments of the previous episode, I went into this installment with a fresh perspective. So the writers weren't going to follow through with their apparent game-changing twist; at least it looked like they were going to change things up a little bit with the frame job on Michael. And that plot gets some advancement in this episode (though, did anyone think the imposter looked anything like Michael, at all?).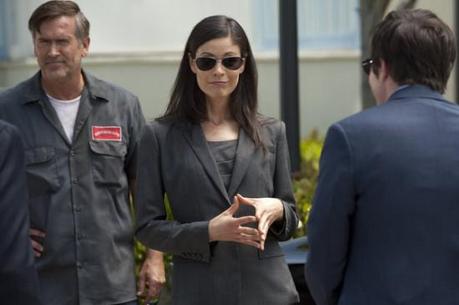 The highlight of the episode was the level of interaction for Team Westen. Jesse is getting back into the swing of things with the gang, and since the writers have decided not to bother with the angst of Michael's role in burning Jesse in the first place, they pretty much all get along and act like a solid team. In a nice change of pace, this particular job falls to Sam, who must navigate deadly waters to help Michael with one of his CIA cases.
The first good thing about this is the extent of Bruce Campbell's role in the story. He doesn't always get to show his range on this series, so this was a great opportunity, and the actor clearly saw it the same way. I wasn't always convinced that the writers gave him convincing dialogue, but I never questioned Sam's commitment to the mission. In fact, this was such a good Sam Axe episode that I thought it better than the TV-movie that was devoted to him earlier this year.
The other good thing is how this underscored for Michael how little the CIA takes his personal team into consideration. I'm still not sure why the CIA would let Michael involve the rest of his gang in any of these operations, even after the demonstration of their value in the season premiere, but the dismissal of Sam's peril was harsh. Agent Pierce may have tried to mitigate the damage, so to speak, but in the end, Michael had to figure out a way to save Sam on his own. That needs to lead to something more substantial.
While it wasn't quite as impressive, I did appreciate the Maddie/Fiona subplot, if only because it paired them up in a way that we haven't seen lately. As Michael noted, they did a very nice acting job, and it was a good way to let the "frame job" plot percolate in the background while the episodic elements dominated. I also like how both of them call out Michael on his issues. He's not been in a good place, and someone needs to get him back on track. Looks like both women in his life will be sharing the cause.
Writing: 2/2
Acting: 2/2
Direction: 2/2
Style: 2/4
Final Rating: 8/10