"Covert Affairs" had a rough start to its second season, but the series has regained a lot of ground, and has even found a remarkable degree of consistency. Annie is displaying a streak of confidence and competence, and the writers continue to mix things up for the cast. This time, Joan leads a mission with personal stakes, and Arthur brings Ben out of whatever hole he's been in to make sure everyone gets out alive.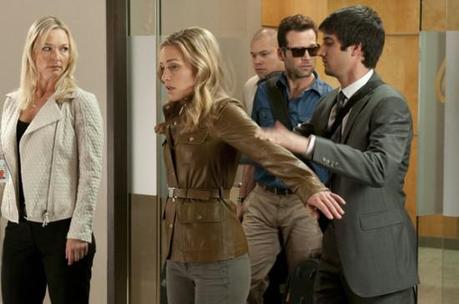 Joan, Annie, and Ben all get to kick ass and take names, but one nice touch is that Annie is the one to recognize that the hostage takers have no intention of letting anyone leave the building alive. And she takes action without telegraphing it to Joan or Ben. In other words, she knows how to do her job, and she simply does it. The past few episodes have shown Annie the way we all expected her to act from the start of the season.
Maybe because they have finally decided to allow her to be competent, the writers saddle her with a love triangle. Does it involve Auggie, the guy that seems to be at the top of everyone's list for Annie? Of course not. Instead, they bring back the doctor that was flirting with Annie a couple episodes ago (so unremarkable that none of us remembered who he was until well into the story) and Ben, her old flame who once again disappeared into obscurity at the end of the season premiere.
Not that I object entirely to Annie having a messy private life; anything that can push this series closer to the "Alias" mode is a good thing, even if it's just the soap opera elements. After all, the danger posed by her sister's suspicions about her real job can cause serious problems. But the whole love triangle seems a bit contrived and half-hearted.
Speaking of half-hearted, did anyone actually remember that Gregory Itzin played Jai's father? Or the whole subplot of the reporter and the leak that was a threat to Arthur's career? I thought that subplot had been summarily shelved a few episodes ago, and it was about that point when the season finally gained traction. This plot has been so stagnant and forced that half-hearted actually seems like a kind way to put it. It does continue to give Jai more to do in the story, which is a good thing, but it's just not that interesting on the whole. Thankfully, the main plot was more than good enough to overshadow it.
Writing: 2/2
Acting: 2/2
Direction: 2/2
Style: 2/4
Final Rating: 8/10