Contributor: J.M.
"Falling Skies" continues its strong run after the brief decline post premiere. While this episode isn't up to the standards of "Silent Kill", it was more of a three steps forward, one step backward kind of situation. Some of the tension in the episode felt a little forced, and there were moments were the writer lapsed back into the cheesy dialogue from the first couple of episodes, but overall the post-rescue plot direction and character advancement is a pretty resounding success.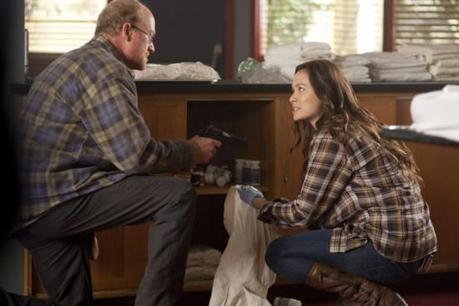 The 2nd Mass, after the rescue of their children, faces a growing unrest within the civilian population. The episode opens with a scared man trying to take the accumulated antibiotics and medicines that the group had accumulated. This scene in particular felt out of place and disjointed. The characters have spent a good chunk of the season so far talking a great deal about the tension between the soldiers and the civilians, and very little time actually developing the conflict. All we've really heard is how much they struggle against Weaver, who is understandably abrasive. While the man's fear about provoking the skitters by rescuing the children is understandable on its face, its role in the larger soldier/civilian conflict is a little unclear and not particularly convincing. But it was good nevertheless to see the dynamic finally explored.
It also gave us an opportunity to get some more character growth in from Anne and Margaret, bonding over the desire for protection. It made sense that Anne would be feeling vulnerable, given the events of the last episode in addition to that robbery at the beginning of the episode. We also go to some more information regarding how Ben was treated as one of the harnessed kids.
It shed some light on how things worked, but it really only confirmed what was already hinted at, was that they were treating the children like they cared about them. I don't think it's too big of a jump to assume that they don't need slave labor per se, but rather for another reason. There was another strong scene for Weaver this week, expounding on his fatherly relationship with Jimmy. The actor who plays Jimmy, Dylan Authors, did an excellent job of portraying a kid who desperately wants the approval of his father-figure. It was great to watch his reaction when Weaver blew the skitters' head off, his portrayal of a kid who has to grow up quickly but still has some emotional vulnerability.
So in this review's edition of baseless speculation, my opinion is that the skitters need the kids because they can no longer have children. So they are recruiting human children to serve as an emotional 'drug' or stop gap measure. The mechs might be some kind of client culture or war machine designed to take the place of actual skitters during war time. Now, I know there are some pretty big holes in the theory, namely why would you want to nuke your drug supply, but it's what I have.
Lt. Clayton's betrayal was something I didn't see coming until his contingent set out from the school. The moment he told Hal that they were going off the path that they had established. Admittedly, looking back on the episode, I probably should have noticed. Clayton's behavior was a little too perfect, and there was no way to confirm or deny his words. It'll be interesting to see exactly how is deal was worked out and negotiated. It will also be useful to get some insights into exactly why the skitters are so interested in human children, and maybe why they came to Earth.
Overall this episode continued the series strong forward momentum. Some good character development and plot movement forward, things are building steadily towards the season finale. Despite a couple of small issues, the writers delivered an excellent episode with a good set up for the conclusion, and with huge hints at what will come after, and continued to build on the skitter mystique, providing more evidence that something about the skitters' relationship with the children is dramatically different than what it appears to be.
Rating: 8/10