With a title like that, I knew this was going to be one to watch. And it was, though for decidedly different reasons. In fact, I'd go so far as to say that this was my favorite episode of the season to date, and could be laying the foundation for bigger moments later down the road.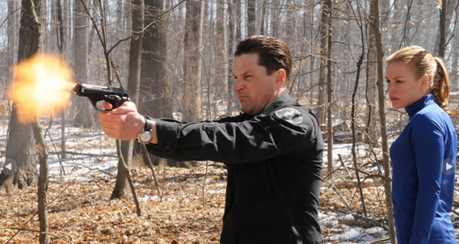 I think it's great that the producers recognize that the effects team for the show has, for some inexplicable reason, no talent for green-screen compositing at all. They've gone so far as to admit that they don't do it well (though they say it's terribly hard to do right, even though 99% of other shows do it perfectly fine). The end result is an emphasis on more location shooting, which has really been a boon for the last couple episodes.
For example, while I loved the CIA training exercises, they did a tremendous job with the skydiving sequences. Either they brought in the right experts to do the effects this time, or they actually did the jump. It doesn't really matter; the end result was a solid climax to a solid story. In a way, it even tied in nicely with the "Burn Notice" premiere later in the same week.
Another big improvement was the amount of Annie/Auggie interaction. I'm not one to look for them to get together (the writers are tossing out far too many options at this point as it is), but I do like their chemistry and their teamwork. If the writers aren't going to have Annie learn from her mistakes and avoid obvious pitfalls yet, then having Auggie around to help her manage consequences is not a bad thing.
The introduction of the very insistent doctor/love interest leaves me a bit cold. I like that it draws out more of Annie's personality, but I find it oddly inappropriate. After all, Annie's niece is his patient; his immediate pursuit speaks to an opportunistic tendency on his part. But more than that, I can't help but think that it's all a setup. It would be beyond coincidental plotting, granted, but I kept waiting for him to do something really creepy or evil.
Which leads me to think that this episode was as much about demonstrating Annie's oft-mentioned skills (and enduring weaknesses) as it was about setting the stage for the future. At the same time, I can't be sure, because they continue to have this subplot with Arthur and Joan that I couldn't care less about, inserted somewhat randomly into the episode. So is all of this actually leading to something bigger? Only time will tell.
Writing: 2/2
Acting: 2/2
Direction: 2/2
Style: 1/4
Final Rating: 7/10