The first season of "Covert Affairs" served its apparent purpose: providing a diverting bit of summer fun with a sexy espionage twist. Unfortunately, the show never quite found its footing. Despite promoting the show by focusing on leading lady Piper Perabo's sex appeal, her character rarely displayed that side of her job in the series itself. In fact, the tone of the show seems to be sparing in that regard.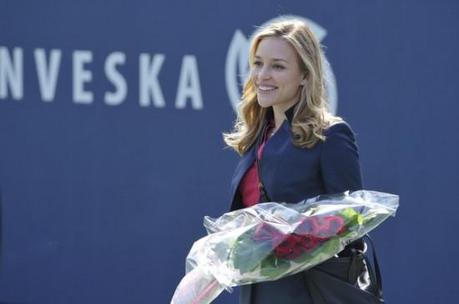 The show also has its technical challenges. Cheap digital editing software has all but resolved some of the issues with green-screen compositing, but the series has been notorious for terribly fake background shots. This premiere has some of the most egregious examples, including some scenes where the use of such techniques would seem unnecessary. I'm not particularly elitist when it comes to such things, but when it's so poorly done as to distract from the scene in question, it's a real problem.
A lot of this episode seems to be devoted to resetting the status quo. Ben, Annie's former lover, was once deep undercover, as a basic element of the series. This premiere shoves him right back into the same scenario, even if he's working for Arthur and therefore all but right under Annie's nose. So we can expect more instances of Ben secretly helping Annie, who continues to struggle with the learning curve of being a field agent, as seen last season.
The main case isn't all that interesting (despite having a very curvy tennis player in the mix), and seems like a way to get Annie off on her own while the rest of the cast deals with the fallout of the first season. Auggie's lover releases an expose that threatens Arthur's job (something I struggled to recall while watching). Combined with the intrigue surrounding Ben, it left the episode feeling disjointed.
That structural issue may have been designed to help get the audience back up to speed on the various plot and character threads lingering since the first season, but it skimped on what has been the series' strength: the character interactions. I'm also concerned that they still have Annie making mistakes in the field. Annie's lack of experience was played up in the first season far too much, and I'd hate to see a lack of progress towards basic competency.
The biggest challenge for this show is simply its very nature: as a somewhat flighty, disposable summer show, it doesn't demand close attention of its audience. So when a season premiere depends a bit on the audience remembering the stakes and subplots, it's a tough sell. Hopefully the writers will include more context as they continue to touch on existing plot threads as the second season gets underway.
Writing: 1/2
Acting: 2/2
Direction: 1/2
Style: 1/4
Final Rating: 5/10