Contributor: J.M.
Oh boy this episode left me extremely conflicted. I alternated between rating this episode a four and an eight, and ultimately decided to split the difference. This episode is the perfect example of this season's problems: excellent writing, acting, and character development without sufficient connection to the overarching story as a whole: the bottle show to end all bottle shows in a serialized story.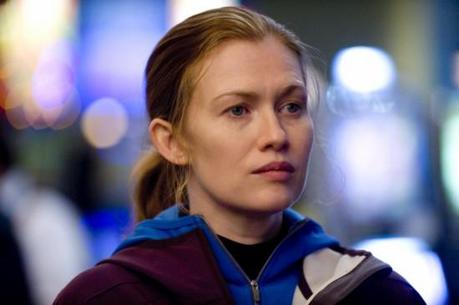 The plot begins much like we have seen throughout the series: Linden dealing with the consequences of the latest revelation from the case: in this case that Rosie went to an Indian casino the night she disappeared. Through a bit of common sense detective work, she sets into motion the process of acquiring the ATM videos for the casino. Unfortunately, this takes some time, much like in the real world. What would pass in between a commercial break or quick cut to a judge's chambers in other procedurals is resolved in a whole episode here. And before I begin to highlight the episode's weaknesses, let me just say that I've admired the writers' willingness to stick to the more realistic handling of a criminal investigation even when it's clearly not the 'best' writing choice.
That being said, there could have been better ways to handle this. Focusing on the search for Jack allowed them to really highlight the relationship between Linden and Holder and some massive amount of character development for the both of them, but you really have to ask the question: just what was the point of this bottle show two episodes from the season finale? We have no clue who might have killed Rosie, why she was killed, or what is going to happen to her disintegrating family. While Linden's situation is pretty drastic all things considered, particularly considering the case she is investigating, the show has no room for this kind of episode at this point in the season. Had this come around episode 5 or 6, this wouldn't have been a problem and in fact might have helped: Linden's behavior this entire season has been a constant source of frustration, and some of the revelations about her upbringing would have been helpful earlier. Also, the constant hostility between her and Holder had gone on for too long without some sort of resolution or movement.
But again, this episode was not a bad episode in the traditional sense. In a standalone environment, it was in fact full of touching moments, Holder's call to his sister being just one that comes to mind, and did a good job of highlighting character background that was relevant to their behavior in the past. But it is simply inexcusable coming at this point in the season. And I simply don't understand it. There seems to be more than enough material to focus on the investigation of Rosie Larsen's murder and the damage it caused her family and others. There doesn't seem to be a need for a filler episode such as this.
It is simply the latest in a long, confusing, and frustrating line of missteps that seem to derive from the lack of focus on the writers. They appear to have been unable to decide what this show was about: Rosie's murder investigation, the political campaign of Richmond, the impact on her family, or the story of Linden and Holder, or even Bennet Ahmed. It would be so much easier to deal with if the show was simply poor, but nothing could be further from the truth, and that is what makes these wasted opportunities one of the most frustrating things on television.
Rating: 6/10