Contributor: Henry T.
Story by Corinne Brinkerhoff
Teleplay by Robert and Michelle King
Directed by Robert King
"The Good Wife" is one of the few shows on television that tells stories organically. The events in a certain episode are built on past decisions and past actions of the characters. The types of stories that are being told are of a more procedural nature, but that's balanced by the other, more serialized elements. The task is to find that right balance in every episode. I'll watch one element over the other almost every episode.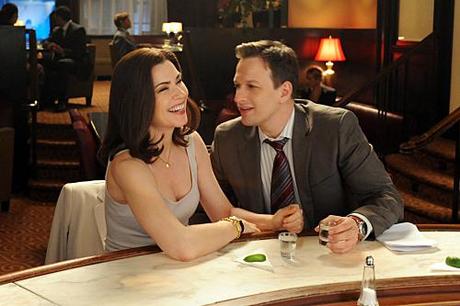 The series has spent the last couple of episodes concentrating on Alicia's personal life and the resulting fallout. For the season finale, that cedes to the background while all of the focus is framed around the Case of The Week. Normally, this is something that will make me cringe (the previous episode's case being an example I can point to), but the writers added the well-tested ingredient of the ticking clock deadline that made the end payoff work. The finale then elegantly sets what is coming for the next season in the coda.
The case initially seemed like the kind of slam dunk Lockhart-Gardner specializes in. I really liked how the episode wastes no time getting into it. The glove just casually drops onto Alicia's desk and we're off to the races. Alicia isn't going to forget what Kalinda did to her marriage so she hesitates to ask for her help. The shields are let down for that one moment, as they all dive into the case and personal issues are shoved aside. It's the mature thing to do.
Kalinda's affair with Peter does cast a wide net on everything that was going on with the case, however. There was a good amount of tension in the scene where Will has to ask Peter if anyone from his office leaked the information. Will and Peter spent much of that one scene sizing each other up, wondering what little tidbits they might already know. I was afraid Peter might make it a knock-down, drag-out physical fight, resorting to accusations that Will was having an affair with Alicia.
Again, the show is just too mature to steep to that. The deeper we get into the episode, the less I really cared about the case, however. Peter's office is going at another agenda: sweeping away all of the bad cases that were mishandled by his predecessors and starting clean. It'll be interesting to see how next season handles the cases where Peter has to face off against his wife. Knowing Peter's flashy, twitchy personality, I would've expected him to come right to Alicia, told her that he was the one to send the firm the bloody glove, and shown her that he was doing some good. It may not have worked, but it seemed a worthy try. I was kind of glad they went the silent way, as that probably would have been expected. Peter will most likely let that stew going into next season.
I said this about the show in earlier reviews: Alicia's personal and professional lives will come crashing together at some point. It has already begun here. Now that Eli got Peter back into the State's Attorney's office, he takes his business to Lockhart-Gardner. Alicia is now literally in the middle of the legal and political ground that the partnership creates. Her career is blooming and complications now arise. Things are already getting missed. Alicia misses the regular dinner with the kids, though her brother lends a helping hand with that. Jackie, despite a stern warning from Alicia last episode not to meddle with her kids, is looking for any entry point to be with the kids again. That will not go well.
Once Will wins the case (as is usual with cases in this show), both he and Alicia step back and relax for a bit. I liked the scene at the bar with just the two of them, celebrating and laughing. They have genuine chemistry together, and while I have sometimes bemoaned their coupling, going up to the expensive hotel room to be together is a natural course of events. The one misstep was ending the episode the way they did, with the montage of moments set to a generic pop song. It pulled me out of a moment that was supposed to an intense culmination of things that have been building for a while now.
I am of the opinion that the affair will end up being something they both regret. Before that moment, Peter could've accused them of having an affair and they would have legitimately denied it. Now, if Alicia goes through with divorce proceedings (as I think she will next season), they cannot deny it. There's proof from any number of witnesses at the hotel, the receipt for the hotel room, among other things. It promises to get messy, and that's not even mentioning the awkwardness that will exist whenever Will and Alicia work together on cases.
All that being said, I really enjoy the heck out of this series. When I began watching it late last year, I thought it was going to be something I'd casually catch and immediately discard. It's become engrossing and smart entertainment to boot. It's not going to hit the reset button every season and start over with a blank slate. The characters commit to an action and almost always, that action has consequences.
I didn't even mention Kalinda in this review until now. Her past transgressions reflect on her actions here, since she can't enjoy the casual sex she has with an attractive, albeit married, friend. She feels regret for how she's wronged Alicia and doesn't want to be known as a serial homewrecker. That's just one small element that will continue on into next season. "The Good Wife" is on a great roll right now and it only promises to get better in the coming year.
Grade: 9/10
(Season 2 Final Average: 7.5)