Contributor: Henry T.
Written by Chris Fedak and Nicholas Wootton
Directed by Robert Duncan McNeill
I'm happy there is another season of "Chuck" coming. I'm glad that this finale wasn't all that we were going to see of Chuck Bartowski and the gang. To have it end the way it did and have it be the series finale would've been a ghastly mistake. All that said, I spent most of this final hour of the uneven fourth season with a nagging feeling that the writers are out of ideas.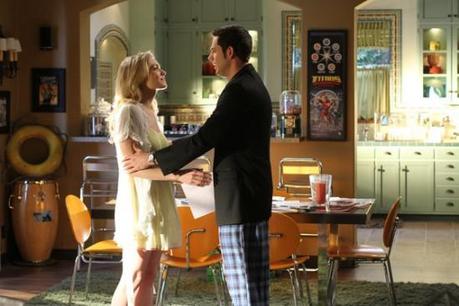 Sure, it's nice to know that Chuck and company are being manipulated by yet another master plan plot. It's great that the team doesn't have to deal with the government bureaucracy that has hampered many missions before. I just can't seem to buy giving the Intersect to Morgan, who I still regard as a supporting character. The show isn't going to suddenly switch its title to "Morgan" and relegate Chuck to the sidelines. It fundamentally changes the show's DNA and that bothers me a little bit.
I wrote in many reviews this season that the writers of "Chuck" had put themselves in the position of either continuing with Chuck and Sarah as a married spy team or just getting married and walking away from the game to start a normal life. I still think that's what's going to happen. The final season will likely demonstrate how Chuck walks away from all of this chaos and death and be a normal nerd. We almost got it here.
You can't ignore judgment of this episode without looking at the end. Chuck and Sarah get married. That much we know. Their life as spies was over. Only, they weren't attached to the CIA. I wanted to cheer when Chuck quit. He walked into Vivian's office and was willing to die to save Sarah. It just wasn't meant to be that they could fully extricate themselves from their spy lives. Morgan getting the Intersect that was meant for Chuck only compounds the problem. The possibility does exist now that the show will end Chuck and Sarah in the background as Morgan (!) saves the world.
It seems like a natural evolution of things. Chuck has outgrown whatever abilities given to him by the Intersect and naturally, that's passed on to his best friend. Chuck will then train and counsel Morgan as he deals with the Intersect now embedded in his head. I think I liked the idea of having no government ties, but I don't like Morgan getting the Intersect. It presents a lot of "What if" possibilities that the writers might not be able to tie off in the final season.
That we get a bigger, unseen mythology set up by a character we've never even heard of before until this episode in Decker shows how much the writers were in limbo with the show's constant bubble status. It comes out of nowhere and so there's a weird rushed feeling in whatever Chuck did during the episode to counteract anything Decker does. A lot of what came in the episode reeked of a desperate attempt to keep the plots viable. We have to slog through Decker's wiping of both the Alexei Volkoff personality and Chuck's Intersect abilities to get to what we see at the end. Intersects have been integrated and snatched out of people through most of the past two years. It was getting repetitive and a bit annoying.
The singular moment I loved from all of this though, was when Chuck resigned himself to facing off against Vivian in her office and admitting that nothing but saving Sarah mattered to him. "Chuck" is not a serious show, but Chuck Bartowski had some gravitas when he said that the woman he loved was dying and saving her was his only mission. It proved better than all of the weird machianations between Vivian — who still looked like a miscalculation by the writers in the end — and Harley Winterbottom (I liked that he acknowledged it was a ridiculous name). I can't see that making Morgan the new superpowered spy is ever going to earn something like that moment. Of course, Chuck has had four years to get to that point, but that only highlights what a big risk the writers are taking with the show down to its victory lap season.
I don't mean to harsh anyone's buzz over the news of a fifth season. That in itself, is a miracle. They made it farther than was ever thought possible. If the writers can nail the balance between Morgan being the hero and Chuck (plus Sarah and Casey and Ellie and Awesome) being the support system behind him, then the "Cliffhanger" from the episode's title was a nice kickoff. There was too much odd minutiae to get through in order to arrive at that point. If the fifth season gets bogged down by that, then there's a problem. The writers finally have an expiration date on the show so they cannot afford to waste time. They must deliver.
I also don't want Chuck and Sarah and Casey to get lost in the shuffle. Morgan's a great character, and awesome comic relief. We'll have to wait and see if he can deliver being the lead for a bit, even if he isn't the name of the show per se. I would much prefer he stay in the background than come out front, but at least seemingly in the short-term, that wasn't what I got. That makes my overall impression of this finale more uncomfortable than anything else. It resolved some things, but tenatively set up new things that haven't yet stuck. Hopefully, it will be something akin to what we got at Chuck and Sarah's wedding: closure. However, don't be surprised if they stumble in some way.
Grade: 7/10
(Season 4 Final Average: 7.5)