Contributor: Henry T.
Written by Leonard Dick
Directed by Roxann Dawson
We now get to see the other confrontation. After dealing with Peter's infidelity, Alicia naturally has to take on Kalinda's betrayal of their friendship. This is the more pain-filled portion of the story because the friendship has been going on since the beginning of the series. I think it held back on the fury and how broken everything was between them. It's a correct, albeit curious choice to go in this direction.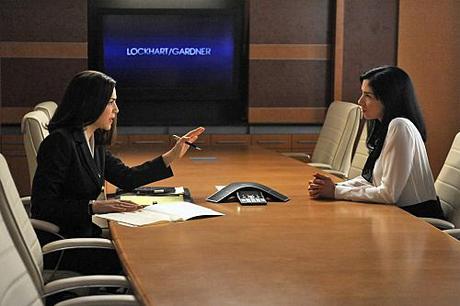 Not helping things is Lockhart-Gardner's weekly assignment of Alicia to a case that parallels her life situation a little too closely. Legal dramas do this all too often, and here was an instance where I would have thought Alicia would ask to stay far away from the case. Especially since Kalinda is assigned to the case as well. The previous episode dealt with Alicia's personal life. It is much more difficult when her work is intermingled with her personal life. I had to wonder how permanent this fractured relationship would last by the end.
The episode gets the confrontation out of the way early. It had a very similar feeling to "In Sickness" and how Alicia swiftly dealt with Peter's infidelity. She says a quiet and stern "no" to Kalinda when beginning the conversation, echoing the last words spoken to Peter. The second conversation they have, where Kalinda tries to rationalize her betrayal, has the same feeling as the last conversation between Alicia and Peter.
There is a different emotion behind everything, though. With Peter, Alicia was venting anger at him. Here, the emotion is pain. Alicia is hurt not only by the affair, but Kalinda's subsequent befriending of her. Their entire relationship was built on a lie. The fact that they have to continue to work together on cases heightens the pain for Alicia. Kalinda's completely in the wrong here, but this is the situation that finally breaks down her ice-cool demeanor. We see her upset by Alicia's discoveries and the constant shunning and her biting questions about their affair. It drives her to seek out another job, away from the firm. I just wished the writers didn't back off on the job change at the last minute.
This was a show willing to sideline Cary for long stretches by moving him off to the State's Attorney's Office. Surely, it could have done something similar with Kalinda. Only now, she's steeled her resolve again and stayed with Lockhart-Gardner. The fact that her friendship with Alicia is over and the affair will still hang over her for the time being. I sense a change could be coming, but I wonder if it will truly stay permanent.
Like most of the episodes shown on "The Good Wife", I felt the lion's share of problems with this episode lay in the case presented. The question of infidelity and how much a marriage can take when an affair breaks it apart just happens to be the exact thing Alicia is dealing with at the moment. The case wasn't all that entertaining either because the characters involved never seemed to take it too seriously. There's the slightly ditzy opposing counsel and the really over-the-top client who encourages swinging within a marriage. I think had they cast someone besides comedienne Sarah Silverman in the role, I would have put more weight into the case. I will grant that some levity was needed in the face of so much drama with Alicia's personal life, but it didn't have to be this case.
I liked the previous episode's case because it had no association with Alicia's personal life so she came out fighting. It showed a different side of her, one we rarely ever see. With this infidelity/murder case, it causes Alicia's eye to wander towards a revenge romance with Will, something that has been stewing all season. It feels too on-the-nose. The dragon lady personality from the previous episode came out a bit during Alicia's scene with Jackie. I cheered when Alicia sternly warned Jackie to watch what she does around her kids. It was a tone that was consistent with what had previously happened on the show. The case Alicia was on didn't give that impression at any time.
What's left now is to see how Alicia and Kalinda continue to work from here on out. Also not addressed in this episode (but probably will be in the second season finale) is how Peter will affect things. He's been effectively banished from her life, but if Alicia chooses to go into a relationship with Will, there's no telling what he might do. How Alicia deals with Peter on a professional level might have been hinted in this episode. Alicia got advice from the firm's divorce lawyer to hold off on going for the kill. Alicia is a patient woman, though I can't see her waiting a year to hurt Peter in the way she would like. At the same time, I can't see a relationship with Will being a good idea either. I don't see Alicia being the type of person who mixes her personal and professional lives in such a public manner. She is already experiencing the consequences when two people close to her do much the same thing. It's not going to end well in any way.
Grade: 7/10