Contributor: Gregg Wright
Despite some weak points, season 2 of "Justified" has made good on its promise to be even better than the first season. A big part of my enjoyment of the show has been Timothy Olyphant's "Old West gunslinger in the modern world" Raylan Givens. But what really brought the second season to another level was the heavier emphasis on an excellent supporting cast and a heavier emphasis on the myth-arc. The more procedural/stand-alone episodes were all used up in the first half of the season, with the myth-arc getting mixed in to varying degrees, and now dominating the second half of the season. I think this was a smart move. The more stand-alone episodes are a good fit for the slower paced build-up earlier in the season. But I'm glad they're not switching gears to something like that right in the middle of all this escalating conflict.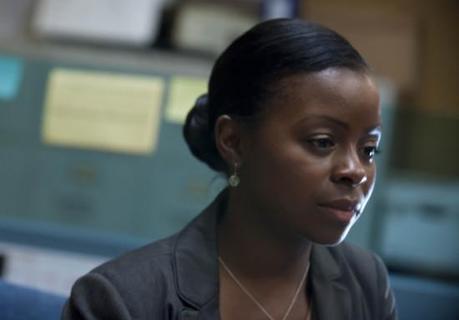 As much as I like Raylan Givens, the character has really needed some fleshing out. This season has done a pretty good job of this, in large part by further developing his relationships with other characters, like the Bennetts, Loretta, Boyd, Winona, and his co-workers. We want Raylan to be the same, heroic figure he's always been. But Raylan still needs to seem human and relatable. And the best way to do that was to give him flaws. Winona is annoying, but she's served to bring out Raylan's darker side and pit increase the tension between Raylan and his co-workers. It was great to see Tim Gutterson back in the mix. There was a lot of good dialog between Tim and Raylan resulting from their now somewhat shaky relationship. It feels like things are just getting worse and worse for Raylan this season.
I'm still feeling confused, possibly more so than in the previous episode, by Boyd's sudden return to organized crime. I think it would make a lot more sense if Boyd turned into something of a "Robin Hood" vigilante character. His actions so far could be interpreted that way, since he seems to have only stolen from other criminals so far, and hasn't yet directly killed anyone. But that his actions seem to have put Helen in the crossfire reflect badly on Boyd. I guess he didn't count on Dickie going all-out psychopath. I don't think anyone did. Dickie has always been creepy, but I never thought he had it in him to just start murdering people left and right to achieve his goals. Coover's death must have really set something off in him. Not that this will save him from the wrath of Raylan, though. I'm also wondering how Raylan is going to react when he learns about Boyd's involvement in all this. I'm fine with Raylan and Boyd going up against each other again, but I really wish it wasn't over Boyd randomly becoming a criminal again and purposefully riling up Boyd, leading to the shooting of Helen. Whether she's actually dead or not remains to be seen, but either way, Raylan is going to be out for blood.
Last week's truce between Mags and the Givens is further expanded on, as well as Mags' newly engendered hatred from the locals. The whole town is against her now. One of my favorite scenes in the episode occurred when Raylan showed up at Mags' store (after giving the slip to an annoyed Tim Gutterson) to find out if she was responsible for the attempted hit on he and Winona. She claims not to have been (which is later proven as the real culprit is revealed). In fact, she seems to have really calmed down since Coover's death. She doesn't deny that she's angry that Raylan killed Coover, but she agrees that it had to be done, and acknowledges how grateful she is that Raylan saved Loretta. Soon Tim Gutterson shows up, and Doyle and his posse shortly afterward to introduce some tension. But Mags is still the boss, and Doyle backs down before there's any real trouble. The scene ends with a great couple of lines between Doyle and Raylan…
Doyle: "Now, I mean, you think I sent them hitters, you gotta figure when you get down here there's a chance I might want to "OK Corral" it. You bring one man to back you up?"
Raylan: "Yeah, well… I thought you'd bring more guys."
Mags' reaction to Coover's death and the entire situation is unexpected, but I actually like it quite a bit. I had fully expected Mags to begin planning her revenge against Raylan. But Mags has priorities, and she's smart enough to know where to back down and where to push forward. Mags has been an impressive villain from the start of the season, but she's proven to be way more intelligent, and human, than she first appeared to be, which makes her much more compelling in my book. At this point I could easily see her siding with Raylan in a conflict if their goals coincided. Mags actually does seem to care about Harlan County, and aims to protect it for future generations, even if no one is grateful. Dickie's actions threaten to re-ignite the feud, though, unless Raylan and Arlo can be convinced that Dickie went against orders. Maybe this is where Boyd comes in.
Overall, a strong episode, but I'm not quite as confident about every direction the season is heading in than I was after the previous couple of episodes. I'm still not entirely satisfied with the direction Boyd seems to be heading. And as deadly as Dickie has been, he's not as interesting a villain as Mags was. Hopefully there are going to be some major surprises in the final two episodes. I really want this season to end on a high note and live up to the great storytelling they've delivered so far this season.
Rating: 8/10