As I mentioned in the update to the review for the sneak preview of "Camelot", I can't help but wonder if they cut scenes out of the first hour of the true premiere when airing that tease. Because honestly, rewatching it this time, just before catching this second installment, it worked much better. And the second part of the premiere made it all come together in a more reasonable whole.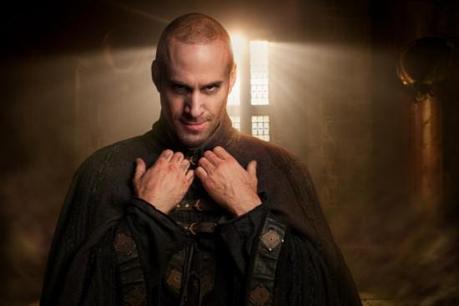 By the end of this episode, the stage has been pretty well set: Arthur has taken command of a solid (if small) alliance, he has gained the trust of the people, he has repelled the challenge of King Lot, and Morgan has set upon a path to take the throne for herself, no matter the cost. Oh, and Arthur has met the gorgeous and vivacious Guinevere, who is of course betrothed to one of his key allies.
Just about the entire cast manages to shine in the process, especially Arthur, who was questionable at best in the sneak preview. The writers quickly resolve the issue of his personality and influence with the "sword in the stone" scenario, and it helps that he now has a solid support system to help him gain experience and wisdom. I found myself liking Arthur more than I expected, having already been enthralled with Eva Green's note-perfect Morgan.
If anything, the weak link here is Merlin, played by Joseph Fiennes. Fiennes just can't seem to break out of his own bad acting habits, though he is a fair sight better here than he was on "FlashForward". That makes it hard to know if Merlin's detached and subdued attitude is intentional. If Merlin is making a conscious decision to stand back, allowing Arthur to make decisions within the context of his occasional prodding to ensure Arthur is seen as the leader, then it makes sense. But it's still not clear that this is the intention.
The first season of this series is relatively short (10 episodes), so I don't foresee the writers taking too long or keeping the story to a slow pace. Of the two post-"The Tudors" period projects by Michael Hirst ("Camelot" and "The Borgias"), this is by far the more compelling. I only hope that the show continues to improve beyond the premiere!
Writing: 2/2
Acting: 2/2
Direction: 2/2
Style: 2/4
Final Rating: 8/10