Contributor: Gregg Wright
"The Spoil" does an excellent job of further escalating the conflict between Raylan, the Bennetts, and Black Pike Coal. And I was glad to see that the threat from the vengeful family members from the previous episode was re-visited, resulting in a sniper attack on the Givens home while Raylan and Carol Johnson (who not so subtly wants Raylan to sleep with her) are visiting Arlo and Helen. The arrival of Black Pike Coal seems to have set off a chain reaction, and things are likely to get progressively bloodier from here on out.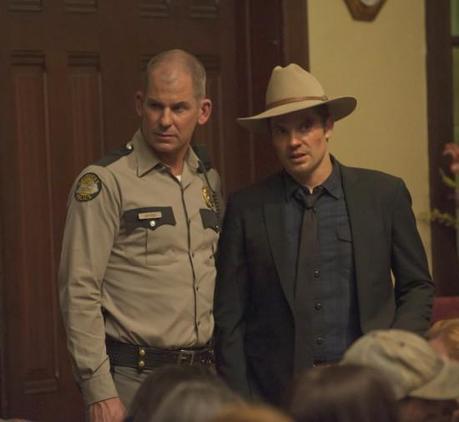 Art knows, and Raylan knows that he knows. I wonder if Art knows that Raylan knows that he knows? Anyways, Art doesn't seem ready to do anything about this knowledge. He could be hoping that Raylan will do the right thing on his own. With everything that's going on, and the likelihood of things getting a whole lot worse, fessing up to the crime and incriminating Winona would really ruin Raylan's day.
But for now, the stolen bill issue is put on hold. With the threat of death still looming over Carol's head, it's not surprising that Raylan was tasked with protecting her. The cool part about this (not that Raylan would see it that way, of course) is that this means that Raylan and Boyd essentially have to work together. But that's the least of Raylan's problems. The Bennetts and Black Pike Coal are fighting over land (and not just any land, apparently), which seems likely to result in a violent conflict. Both seem to want the other out of the way. And with Raylan protecting Carol and Boyd protecting Carol's interests, both men are grouped with Black Pike Coal as the enemy. Raylan doesn't give a damn about the company's interests; he's just doing his job.
At least now we've got a pretty clear understanding (thanks to Raylan) of where that bad blood came from between the Givens and the Bennetts. I didn't expect a full-blown Hatfield and McCoy-style feud, and I'm still not sure what to think of it. It certainly adds a sense of scale to the whole conflict. In this case the feud dates all the way back to Prohibition, when the Bennetts got the idea that the Givens had tipped off the Feds to their moonshine operation. One dead Givens later, and the feud had officially begun.
Turns out Raylan first took part in the feud back in high school, and ended up taking a bat to Dickie's leg (which means that my previous prediction was completely off the mark). It was interesting to recall Raylan's previous interactions with the Bennetts this season and put them into context with this new information. And it isn't until later in the episode that we realize why Dickie was playing around with that bat in the store scene.
As I've said before, it was only a matter of time before Raylan would be forced into a more direct confrontation with the Bennetts, but the arrival of Carol Johnson seems to have greatly accelerated things in a logical way. Boyd seems keenly aware, perhaps even more so than Raylan, that things are beginning to spiral out of control. But just what is it that makes that land so valuable? Whatever it is, Boyd seems to have figured it out by the end of the episode. I'm really looking forward to seeing how Boyd plays the situation to his (and Ava's) advantage.
This season has had its minor weak points, but its strengths have far outweighed its weaknesses. And may I say that the acting has been awesome? All of the actors playing the Bennetts have been fantastic. Margo Martindale is certainly owning the Mags role. Timothy Olyphant deserves credit for not being overshadowed by any of the Bennett actors or by Walton Goggins, whose had some truly standout moments this season. I've already mentioned that I was impressed by Kaitlin Dever's acting, which is a rare feat for an actress of her age. Loretta seems to have been pushed to the background for the most part, but she's likely to become important to the plot again soon, especially now that she's witnessed Raylan getting his ass kicked by Coover.
Overall, this season seems to have had a greater focus on the myth-arc, which is exactly what I was hoping for. The previous episode involved one of my least favorite characters, Winona, but the personal ramifications for Raylan made it more interesting to me than any of the more stand-alone episodes. As necessary as they might be, I can't help but be more interested in the intrigue surrounding Raylan, Boyd, and the Bennetts. With Raylan, Boyd, Ava, and Carol Johnson all headed to the Bennett party, next week looks to take the conflict to another level.
Rating: 9/10