Before addressing the episode itself, I just have to mention that I happen to work for a Dutch company. So this ongoing plot thread with the elder vampires being Dutch and so forth is personally very amusing. There are several in-jokes that one could make that would have particular meaning for my co-workers!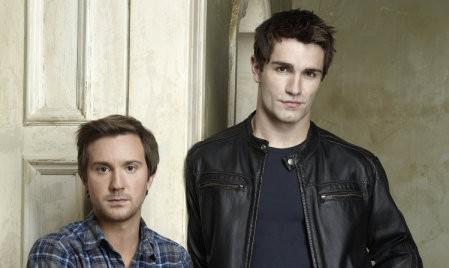 As far as I can tell, this episode takes the American version of the series in a completely different direction that the British original, while still touching on a lot of the same overall plot elements and themes. Certainly, I don't remember any of this happening in the first British series! So all of that is another big step in the right direction.
I'll start with Aiden, since the vampires are my favorite part of the series. The situation with the Dutch elders gets really complicated here, and Bishop's decision to stake his own claim of leadership (no pun intended) is a great twist. Especially when Aiden is squarely on the opposite side of that very nasty equation. I hate to see Rebecca go, since she's one of my favorite things about the series right now, but she served her purpose as a temptation for Aiden to return to the dark side.
At this point, Bishop has put a target on his back, all while planning to "go public". It's just not something likely to go well for anyone, human or vampire alike, so a showdown with Bishop would appear to be in the cards before the season is out. I just hope it's not a definitive showdown, because Bishop is just plain fun as the main vampire antagonist.
Sally's subplot was a great evolution of her conflict with Danny, and paid off her communication with Bridget very well. What I really like is how Sally managed to take care of the Danny situation more or less on her own in this version. Sure, she needed the psychic in the end, but she regained control of the situation, put Danny in his place, and learned about one of her abilities. It may be why the door hadn't appeared earlier, but it could also mean that Sally is going to evolve in other, unexpected ways. Regardless, this was a huge episode for Sally that made me like her a lot more.
Josh gets the short end of the stick in this episode, dealing with the most mundane of the subplots. Even so, it's hard not to understand the metaphor at play. In essence, Josh is worried that his potential offspring with Nora might have his disease, which is analogous to HIV babies and the like. Regardless of his very specific worries, his reactions are very male and very human, in all the best and worst ways. (That said, I'm a bit annoyed that the writers may already be pulling out the pregnancy card; baby plots are the kiss of death for genre shows.)
Ultimately, this is just setting things up for one hell of a first season finale. I must admit that I am now far more intrigued by the American version than the British original. Where the British version feels like it is struggling to maintain consistently and focus, the American version has managed to find its footing and play on its strengths.
Writing: 2/2
Acting: 2/2
Direction: 2/2
Style: 2/4
Final Rating: 8/10