Contributor: Gregg Wright
As much as I dislike Winona, her actions did result in one the most suspenseful episodes of the season thus far. Raylan's feelings for Winona have driven further outside the law than I've ever seen him go before, and we've never seen him have to work behind his co-workers' backs before. It all made for uncomfortable, but entertaining viewing.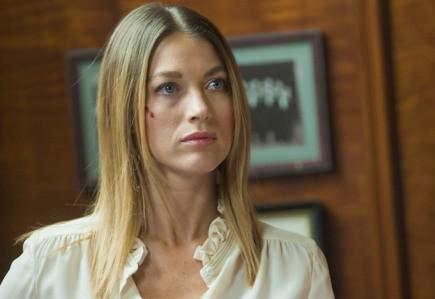 I could give a damn about what happens to Winona, but the real suspense came from seeing Raylan pulled further and further into Winona's mess. It almost stretched believability how rapidly and how completely everything started to spin out of control as soon as Winona entered the courthouse. But if this entire situation doesn't begin to drive a wedge between Raylan and Winona, then that would be a greater affront to believability.
Of course, what really made the episode worthwhile for me was the setup for a new storyline involving Boyd, Raylan, the Bennetts, and newcomer Carol Johnson (played by Rebecca Creskoff). I think that Johnson is just what this show needs at this stage in the season. Creskoff plays the ruthless ice queen role well (as she has on HBO's "Hung" for its first two seasons). Johnson is obviously used to getting her way, and isn't about to let the Bennetts get in the way of whatever it is she's planning.
But I suspect that Mags and her clan are not going to go down as easily as Johnson might expect. Things are gearing up for a big confrontation. I have no doubt that Boyd and Raylan will be involved somehow, but I'm not sure yet exactly how. I have a hard time seeing Boyd accept the job of hitman at this point. But if he does, I expect that he'll be faced with a moral choice at some point and possibly side with Raylan again.
Without a doubt, my favorite scene of the episode was that brief exchange in the courtroom between Boyd, Raylan, and Carol. I liked how Raylan admitted that Boyd has had his back on two occasions. That could be some good foreshadowing for events later in the season. I loved that Johnson seemed to get that there's some sort of weird bond between Raylan and Boyd. That antagonist/friend relationship is core to the show, in my opinion. "Justified" wouldn't be the same without it.
Raylan and Winona's relational fallout seems inevitable to me, but I'm more worried about the potential fallout between Art and Raylan. I'd say that Art is probably Raylan's best friend at the office, and possibly even something of a mentor/father-figure. There's no way that Art isn't supremely suspicious of Raylan by now, especially given that last scene at evidence lockup. Creating some temporary conflict between Raylan and his co-workers could make for a compelling storyline, if done right.
Despite the fact that that Winona factors heavily into the plot, I can't help but see the episode as another winner and an important step towards the season's final few episodes. Winona's screw-up has resulted in simultaneously showcasing both Raylan's best and worst sides. And in my opinion, the more development of Raylan, the better. He's an undeniably awesome character, but I could see him potentially devolving into a caricature if not for the complexities and moral ambiguity an episode like this can bring to the character.
Rating: 8/10