The first half of the third series felt like it was dragging. Until the previous episode, "The Pack", it felt like the story wasn't going anywhere. And there was that small matter of Herrick's resurrection that was effectively forgotten for half a season. There's little wonder why the third series seemed to be rudderless.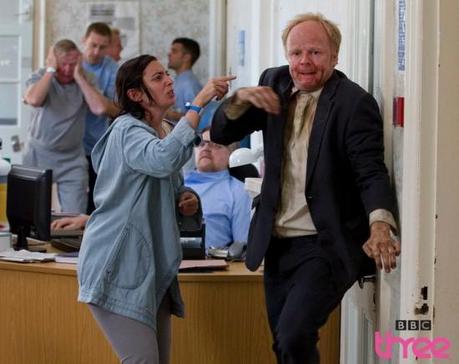 The writers take a huge leap in the right direction with this powerful installment, setting up some massive plot elements for the next three episodes that could very well tip the balance for the season as a whole. Herrick's arrival on the scene, in a status that could be described as deviously uncertain, takes all the growing tensions between the main characters up a significant notch.
The gang becomes unhinged pretty much the moment George discovers Herrick in the psychiatric ward. Mitchell's initial rage is frankly terrifying, and immediately sets the stage for his behavior in the rest of the episode. It's so potent that it makes Nina's decision to turn him in seem completely reasonable. It also thankfully reveals the whole Mitchell/Annie relationship to be a red herring, a way to expose and explore Mitchell's post-massacre psychological state. And it's not at all pretty.
It's a pressure-cooker of an episode, with the arrival of the daft social worker, Cara and her fawning over Herrick, and Herrick's uncanny ability to find the seams and rip them apart. What it all comes down to is this: the external threats of the first two seasons are, it turns out, nothing compared to the internal threats that they've managed to set aside up to this point. Herrick exploits each and every weakness, which only makes one wonder how much worse it will be as time marches on.
And dare I say it, but this whole situation finally gave me reason to like Annie. Not only did she have a great scene with Herrick, but her reaction to Mitchell's pity-party breakup was some of the best material she's ever had. It seems like this situation is breaking her out of her rut a bit, and that can only be for the good (should they continue down that path).
I have no idea if Nina will turn out to be the "werewolf-shaped bullet"; that seems too easy. It would be so much more satisfying and devastating for it to be George. While Nina is enough of an outsider to see Mitchell's rising instability for what it is, I can see George taking action to protect the mother of his child, should Mitchell come calling to end what he sees as a threat.
While I definitely feel like this episode was a huge step up from the first half of the season, I still think that the inconsistency is a problem. I find it very odd that each season, and the series as a whole, feels a bit aimless and scattershot in execution, when one can review plot summaries and recognize how dense the episodes really are. That disconnect, in my opinion, is holding the series back.
Writing: 2/2
Acting: 2/2
Direction: 2/2
Style: 3/4
Final Rating: 9/10