If it wasn't for the fact that this series rarely, if ever, delivers on its grand promises, I might have been more excited by the events of the season finale. As it stands, I once again believe that the changes represent potential for something interesting and worthwhile. But I have no illusions that this creative staff has the will or the ability to make a third season better than the mess we've seen so far.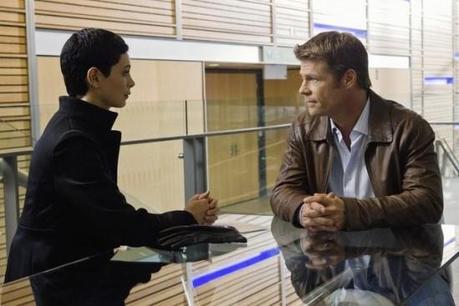 First things first: Tyler's death is a great start, because one could argue that he was the last thing holding Erica back. Jack is apparently subsumed by the Bliss, and thus out of the equation, and if the show were to continue, one could assume that Hobbes would be willing to resume his old ways with Project Ares. (I don't recall if he was subsumed or not.)
I suppose, though, this makes some sense out of the introduction of the other breeding candidates. Good Lisa is imprisoned, while Bad Lisa gets to play with her food. Though I suppose one could make the point that Bad Lisa probably mated with Tyler before lunch. But with little or no chance of renewal, what's the point? Tyler's purpose was never properly explored.
Ryan's end was little better. His motivations were all over the map this season, and it was all about saving his daughter. While it was a neat way to deliver the plot point that Amy belongs to Anna now, it also makes it a lot harder to develop a logical way to remove her from the equation down the road. Again, not a big deal if the series is ending, but it makes Ryan a fairly useless character.
If there was one plot twist I liked in the episode, it was the reveal regarding Erica's FBI friends and their true intentions. I hadn't remembered the press release about Marc Singer arriving in the season finale until I saw his face. Unfortunately, with the Fifth Column now effectively gone, it's all the more obvious that it should have been something like Project Ares from the beginning.
While it precipitated some of Anna's best lines and most ridiculously evil moments yet, Diana's rise and fall felt like a waste of a subplot. Once again, what was the point of the entire debate over the human soul? It came to absolutely nothing! And that's exactly why I can't get excited about these various events, even if I were grant the possibility of a third season. This season was supposed to be a major improvement over the first, and it was just as muddled and pointless, if not more so. At this point, I would rather let "V" die its well-deserved death and move on to greener genre pastures.
Writing: 1/2
Acting: 2/2
Direction: 2/2
Style: 1/4
Final Rating: 6/10
(Season 2 Final Average: 6.4)