Contributor: Edmund B.
When 'Rescue Me' returned this season, it appeared the TV tribute to Jimmy was going to provide the framework for a re-examination of 9/11 ten years later. Instead, that storyline has ended mid-way through with a series of over-convenient, frenetic wrap-ups. With this next episode, '344', the show has returned to the more reflective tone that was working so well previously. While it is a welcome development, it also highlights that the focus of the anniversary hasn't eliminated some of the writing problems that have plagued recent seasons. Once again, they latched onto a good idea, and then rode it too hard and too fast, leaving them scrambling for a new hook in the second half.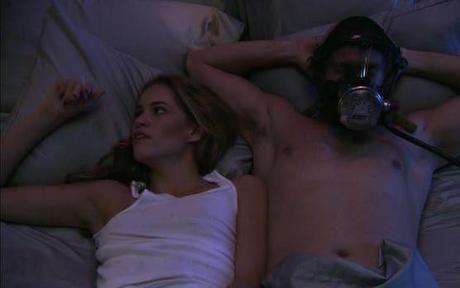 This time, the reboot is kicked off by a visit to Ground Zero. The memorial planned for the site is only now being completed, after years of political wrangling and sniping. The show will end shortly before its opening, and I still consider it an open question which of them is the more fitting tribute. Certainly the discussion here was more moving and succinct than much of the carping from planners, politicians, and even victims' families over the intervening years.
After viewing the site and bemoaning the incomplete memorial, Chief Feinberg introduces the new McGuffin. He pulls out a letter from one of the men he commanded in Vietnam, and recalls the letters left by firefighters as they headed for the World Trade Center, knowing they might not come back. While his reflection on past times provides further evidence for encroaching Alzheimer's, that doesn't negate the power of his appraisal of a proper memorial as words and deeds, not just names on a wall.
Damien returns in this episode in a truly surreal episode with Tommy. After his brief appearance in the season opener, the tension ramped up this time, as we wait for him to move. When he does, he sends Tommy searching through the apartment. This time, the ghost has become a mental mask for Tommy's hunt for Jimmy's letter to Sheila. The reveal when Sheila snaps him out of it, letter in hand, amidst a ransacked apartment and an apparently untouched vodka bottle, was shocking.
As hinted at previously, Damien's ghost represents a new level in Tommy's wrestling match with his demons. His appearance in a near-psychotic, dry drunk episode heralds Tommy's realization that others have shared something he hasn't. His old ghosts tended to reinforce his preconceptions; Damien's seems intent on challenging them.
A call to a gas leak helps to expand Tommy's new perspective. I may be over-reaching here, but I was impressed at the unspoken, and horrifying, possibility of a murder-suicide. How can a gas leak be called in, when the culprit is odorless carbon monoxide? I applaud a level of subtlety the writing (here by Dennis Leary and Evan Reilly) rarely aspires to. The sight of the victims, a father and two sons, brings on a heightened appreciation of Tommy's family, surprisingly intact after all they've been through.
The saga of Garrity and Emily continues to hold up the humor front, with Garrity's questionable decision to turn to the guys for advice. I initially found the invitation for more flatulence humor annoying, a joke that was rapidly going flat. However, the punchline was that his comrades' ribbing produces a workable solution. And one of the funniest closing shots of the series.
The saga of Colleen and Black Shawn also continues. I thought Tommy's betrayal might cause Sheila to rescind her offer to pay for the wedding. The Sheila of earlier seasons certainly would have. Instead, her ability to separate the personal from the familial, and understand the necessity of rituals in our crazy, screwed-up lives was credible. After all of her sturm and drang, it is easy to forget that this journey of reconciling Jimmy's death is as much hers as Tommy's. It's good to see her coming to terms with both that and Damien's condition.
All of this leads up to Tommy's decision to write some letters of his own. However, the handoff to Lou and subsequent hijinks were too predictable. The letter, then the cupcakes felt like a Rude Goldberg device, engineered to bring on the final confrontation with Franco. Although, as a recently promoted manager, I did appreciate the sight gag of Lou's desk overflowing with paperwork.
Even the 'walking dead' speech, obviously intended as a highlight, felt too on-the-nose. Despite John Scurti's impassioned performance, it didn't reveal anything new, just reiterated points that have been illustrated many times before. They would have been better served cutting it, and letting Tommy's beautifully wrought closing flashback speak for itself.
Writing: 1/2
Acting: 2/2
Direction: 2/2
Style: 2/4
Final Rating: 7/10