One of the things I love about "Warehouse 13" is the inclusion of a "secret history" of the world, as defined by the presence of these unusual artifacts, the successive Warehouses, and the agents assigned to maintain them. That story element almost always works for me, especially since we can barely maintain a consistent sense of overt history. The notion that there is far more happening beneath the surface, carefully hidden out of sight, is a tantalizing one.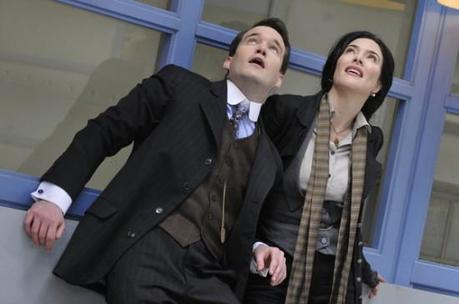 The second season introduced two agents from earlier in the history of Warehouse 13, and more substantially, H.G. Wells, a psychologically damaged agent from the Warehouse 12 era. In a very nice twist on the usual formula, the story centers around the re-emergence of an artifact that was originally encountered by Wells. The current agents need help to stop this disastrous artifact from killing more people, so the Regents allow them to work with a holographic projection of the incarcerated Wells in the modern day (upon Myka's request, and against Pete's opinion).
Thus begins a compelling triptych, in which three eras are explored to solve the mystery. By far, the most enjoyable era was the first, during the heyday of Wells' tenure. We've seen a lot of sides of the Wells character, but here she is in pure Sherlock Holmes mode, and it works tremendously well. It doesn't hurt that the Watson role is played by Gareth David-Lloyd, of "Torchwood" fame. Not only does this allow the production to explore the steampunk elements of the premise more directly, but it makes a solid case for the oft-rumored Wells spinoff. (And with "Eureka" ending its production run, with episodes in the can to stretch out until at least 2012, Syfy has the time and resources to make it happen.)
The second era centers on a continuation of sorts for the stories of Jack and Rebecca, the Warehouse 13 agents from the 1960s that were featured in a second season episode. Unlike the Wells era, which felt like a fully realized production of its own, this is feels like a minor flashback. It does continue the story of those characters from the point at which we last saw them, but that's about it.
The modern era brings all the elements together. In the modern day, Wells is searching for redemption on some level, which resonates neatly with Daniel's own crazed attempt to restore what was lost. Even so, the story doesn't work because of the artifact or Daniel. It works because the format allows this to be something of a backdoor pilot for an H.G. Wells spinoff, and it succeeds beautifully.
Writing: 2/2
Acting: 2/2
Direction: 2/2
Style: 2/4
Final Rating: 8/10