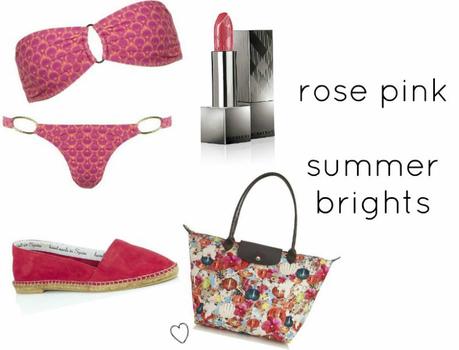 Bikini
Melissa Odabash
Lipstick
Burberry
Bag
 Longchamp 
Shoes
 French Connection
I'm currently lusting after the above pieces to move my summer accessories from drab to fab. I've said before how much I love pink/raspberry tones, and can't wait to inject some color into my current miserable surroundings!
I must admit, my student years have meant my summer wardrobe is an amalgamation of Primark and Topshop basics. We get so little opportunity to actually wear our summer wardrobe here in the UK I have been hesitant to invest too many of my hard-earned pennies into it. 
But I've had a revelation. I'm starting to think summer is just playing a big game with us in windy, rainy Britain. It knows we don't hold high hopes for it. I believe in sociology (ya know, I teach it yada yada yada) we call this a self-fulfilling prophecy - where a prediction comes true simply by virtue of having been made. Poor old summer, it's not feeling very loved by us Brits! So I don't know about you, but I'm gonna do a bit of reverse-psychology. I'm going to invest a little more money and love into my summer wardrobe, in an attempt to tease the sun out of hibernation. 
Some may say this is just an excuse for yet more shopping, but ya know, I've really convinced myself!

Will you be investing in your summer wardrobe this year?