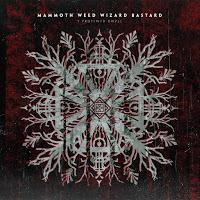 Mammoth Weed Wizard Bastard - Y Proffwyd Dwyll
Simply dreaming and simultaneously pulverizing.  That best describes this delicious slab of psychedelic doom that is Mammoth Weed Wizard Bastard.  When I first heard that name I thought it was a joke, as if some stoner/doom band name generator went haywire and stuck every cliched term together in jest.  Let me tell you, this band is no joke.  Pure, double-barrel, chest-caving doom with an angel singing from above.  Already, the doom underground is licking their chops about this album, and it's easy to see why.  Monstrous, massively-distorted riffs and Jessica Ball's haunting vocals.  No one sounds quite like them. Well worth getting.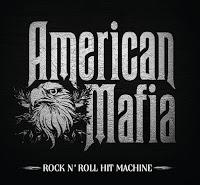 American Mafia - Rock n Roll Hit Machine
Slam the door, crank up the stereo and turn the key to your '69 Camero cause we got just the soundtrack for your rock n roll road trip.  Straight up, no frills, gun metal rockin' blues in the most classic vein.  Full of screaming guitars, grooving basslines and a good, 'ol fashioned leading man who can sing with the best of them.  Rock n Roll Hit Machine is the debut album from "supergroup" of sorts, American Mafia and is simply 12 tracks of  world-class retro-70s Classic Rock, in the Bad Company, Whitesnake class.  The "brain-child" of Tom Jude (Doro Pesch/Holy Water) on guitar & Freddy Villano (Quiet Riot/Widowmaker/Holy Water) on bass, American Mafia also includes Bobby Marks (Dokken) on drums and features a way-kool, impressive cast of outstanding rock vocalists lending their superb vocal talents in the form of John West (Badlands/Artension/Royal Hunt), Jimmy Kunes (Cactus/Flood the Engine), Don Chaffin (VOX/Red Lamb), Mike DiMeo (Riot/Masterplan/The Lizards), Ed Terry (Rondinelli/Rage & Beyond) & David Knight.  Every songs sounds like one that woulda blasted out of your Pioneer stereo and Jensen Tri-axle speakers on the best night of your life in 1979.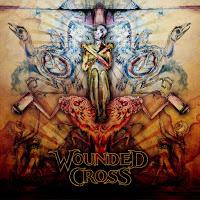 Wounded Cross - Bonecrusher EP
Raving doom-laden heaviness with more than a nod towards the NWOBHM.  Wounded Cross have pumped out a raw and fiery 3-song blitzkreig of riffs and insanity.  Recently signed to Blackened Death Records, Bonecrusher is Wounded Cross's first EP and is sure not to be their last.  Already gigging heavily across the UK, Wounded Cross are sure to hone their chops.  Chock full of primal phlegm and guitar madness, everything about this EP reminds me of the glory days of UK metal circa 1979, when everybody was picking up the guitar and pumping out riff madness in pubs across the country.  Reminds me in a very good energy of what I loved so much about Dianno-era Maiden.  That punk spittle married to excellent guitar work and passion.   With only 3 songs, you get just a taste of what this band has to offer, but it's more than enough to whet the appetite for more.  Each track is a blitz of trad metal energy and mayhem.  It's  not perfect.  The production is a bit rough, and the band is still young with some more honing to do.  But what a way to start!  This may just be the perfect sound track for your saturday night.
--Racer