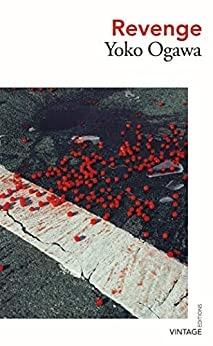 Murderers and mourners, mothers and children, lovers and innocent bystanders - locked in the embrace of an ominous and darkly beautiful web, their fates all converge through the eleven stories here in Yoko Ogawa's Revenge. As tales of the macabre pass from character to character - an aspiring writer, a successful surgeon, a cabaret singer, a lonely craftsman - Ogawa provides us with a slice of life that is resplendent in its chaos, enthralling in its passion and chilling in its cruelty.
***
It was a beautiful Sunday. AFTERNOON AT THE BAKERY
***
(@vintagebooks, 31 January 2013, ebook, 169 pages, bought from @AmazonKindle, translated by Stephen Snyder)
***
***
I bought this short collection of stories before I read the novel The Memory Police and didn't even realise they were by the same author. I thought the stories in this collection were excellent; well-written, dark and macabre but I enjoyed them all. I also enjoyed the little links between them such as the same characters appearing or references to other stories which I didn't fully appreciate until I'd almost reached the end of the collection.