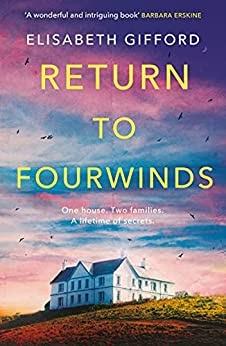 What will it cost to hide your deepest secrets from those you love most?
At Fourwinds they gather: Alice and Ralph, Patricia and Peter, to celebrate the marriage of their children. But the bride is nowhere to be seen.
What could have caused Sarah to vanish? As both families search for the answer, the past floods through the corridors of the old house. What secret has Ralph been keeping from his wife? What is it about Alice's wartime encounter with Peter that has haunted her ever since?
Return to Fourwinds is a sweeping, lyrical story of the things we choose to tell and the secrets that we keep.
***
As Ralph Colchester reached the foot of the hill and began to drive up towards the village, he thought wearily of Fourwinds, the large Georgian house that was waiting for him at the top, of the chaos that would be eddying through the rooms with the Donoghues already there to help, the noise of hammering from the marque going up on the lawn. CHAPTER 1
***
(@CorvusBooks, 4 September 2014, ebook, 369 pages, borrowed from @AmazonKindle, #PrimeReading)
***
***
I've read and enjoyed other books by the author so was looking forward to Return to Fourwinds. The book uses time shifts to move between the past and present, exploring the lives of people who have lived in the old house known as Fourwinds. The house was Alice's family home and so much of her identity and experience is wrapped up in the four walls. Ralph was a friend of Alice's and spent a lot of time in the house just to be near the only woman he could ever love. Then there's Peter, an evacuee sent to life in the house during the war and Fourwinds and Alice and her family became the only place that felt like home. I loved the way the past and present gradually entwine as secrets and truths changes everyone they touch. This is a beautiful and haunting book.