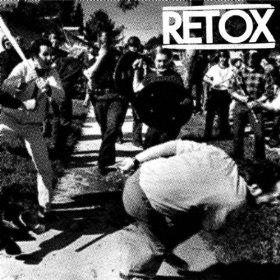 By now everyone is aware or should be aware of a man named Justin Pearson. It seems as though he is part of every important new and past noise rock, powerviolence or grindcore band. Most notably known for being in the bands:
The Locust, Holy Molar, Swing Kids, All Leather
and
Some Girls
. Justin's new project is
Retox
and this is the
Retox EP
.
Retox hits you straight in the face with the first track "Ready to Spit" Classic noise and powerviolence wrapped in a 41 second song. Lyrically Justin gets me, he speaks of people being handed stuff there whole life and being ungrateful. "Don"t worry you jerks, we each have a day job among peasants. Our folks don't have to pay off our college tuition for a career. You have received a notice to quit your pointless bitching."
"I Rub the Wrong Way" is the second track off this 8 track EP. Blistering fast drums and Justin's relentless vocals make this song about hating people for no reason great. "Because God told you to work retail at Wal-Mart. Because God told you to hate fags and foreigners. Because God told you to sell old gold to treat beat meat. Because God told you to live in goat town where gold turns brown. And if I'd agree with you, we would both be wrong."
"Piss Elegant" is the final track on the album. This is the longest track on the album at just under 2 minutes. It speaks of laziness and dead beats. Two things I hate....which again makes this song right up my alley.
"Beats are so dead, we hear a dead beat. We pee between our high heals, and the beat still goes on. Pass around an arm for the kids to get real beat. We hear dead beats, and dumb fucks looks dumb. We see slash hear cons with good luck charms and post-existed conditions lick like two tongues in a cheek. Cons piss up and down life"s back till we"re around. Go get adopted and let the beat go on…Beats are so dead, we hear a dead beat and a dumb fuck looks dumb."
Retox's
new EP is a violent album that speaks about the relationship between society and the music it creates Music can tell many stories. Whether it is a story of love, hate or something in between.
Retox
is the violent answer to the society around us. It is a giant "Fuck You" in the face of hatred and shitty ideals.
--Cicatriz
Buy here: Retox