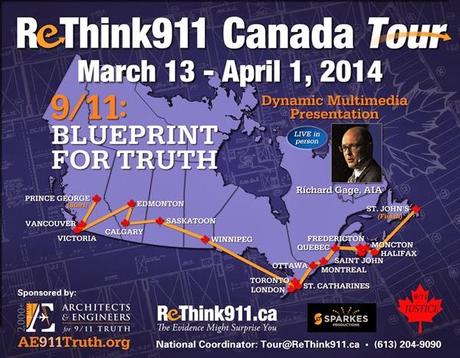 On March 13th 2014, Richard Gage AIA - representing
2100+ architects and engineers
 - set out on a mission to educate as many Canadians as he could about the explosive evidence of controlled demolition of the three high rise buildings on 9/11.
The Rethink911 Canada tour
- a 17 city whirlwind ride in just a few weeks -
ends in St. John's NL on April 1st
!
This is the first of it's kind presentation in the beautiful province of Newfoundland and Labrador, and is truly one event not to be missed.
April 1st 2014 at 7PM
Memorial University of Newfoundland Bruneau Lecture Theatre (IIC 2001) Bruneau Centre for Research and Innovation (building 13 on campus map) Tickets $15 in advance, $20 at the door
Richard Gage called into
VOCM Backtalk
last week to discuss his presentation, and he had a great interview with host Pete Soucy. Have a listen:
I for one am super excited about this first of its kind thing in Newfoundland and Labrador, and I can't thank Mr. Gage enough for adding St. John's to this vitally important tour. Just 2 more days!