We all know the Easter story.  Dead on Friday, resurrected on Sunday is basically how it goes.  Religion and football aren't really subjects you see in the same sentence unless it is one of those rubbish adverts you see around World Cup time outside churches ("Jesus Saves, but God knocks in the rebound").  However, in the case of the relegation battle from the Blue Square Bet South 48 hours is a long time in football with so much changing you need an apostle of two to keep you informed of what is going on.
On Good Friday lunchtime the situation was complicated to say the least. first up Boreham Wood continued their surprising good home form with a win over Eastleigh to end their play off hopes, and leave them all but safe in the division for another season.  Then  Thurrock, who had been on a dreadful run of form were away to Welling United, almost nailed on for the play offs.  The Wings were cruising to a one nil win, with the LLF in attendance for moral support when Thurrock earnt a 90th minute penalty which they duly converted.
So it came to Saturday's games.  Bishop Stortford had a banker three points at home to already doomed St Albans City, which they comfortably won 4-0.  Maidenhead United, who were dead and buried three weeks ago but since have won 13 out of a possible 15 points since losing to Lewes in early April, drew with Dorchester Town, themselves by no means out of the woods.  And then Lewes.  Few outside of the Pan expected them to get anything away at Havant and Waterlooville but they turned up trumps again, extending their unbeaten run to four games and making things very very interesting for the final week of the season.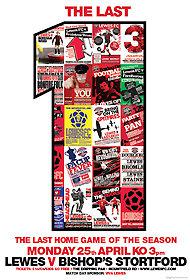 So tomorrow, as the Easter eggs will all be eaten, and people's thoughts will start turning to the Royal Wedding or at least the long weekend because of it, there will be some very nervous players, managers and fans come three o'clock.  Undoubtably the biggest game is at The Dripping Pan, where Lewes host Bishop Stortford.  Dorchester Town and Thurrock both host Play Off chasers in the form of Farnborough and Ebbsfleet United respectively, whilst Maidenhead United do not play.