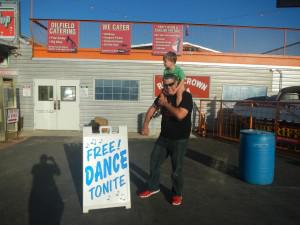 If you ever find yourself in San Antonio and are looking for real mesquite smoked barbecue, there is one place that should be on the top of your list: Texas Pride BBQ. It's arguably the best barbecue restaurant in San Antonio, TX. Don't just take my word for it, they've won a bunch of awards and have even been featured on Guy Fieri's Tripple-D! We checked it out while on our last road trip through Texas, and just had to to tell ya'll about it!
I am a great lover of BBQ, and I've traveled all across the south eating my fair share of it. I've had BBQ in o 10 different states and they all have their unique flavors and styles styles. Now, I've been in many arguments about who has the best BBQ and it always ends in a knock down, drag out, brawl? Why? Because, BBQ is regional and every region swears their home cookin' is the best! So when I say Texas Pride is the Best BBQ, I mean the best Central Texas Style Mesquite BBQ. Now that we've cleared that up, I can get on to telling you about the good eats!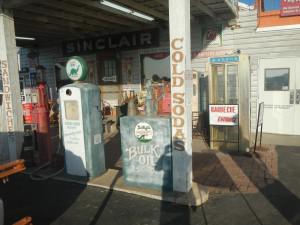 Old Filling Station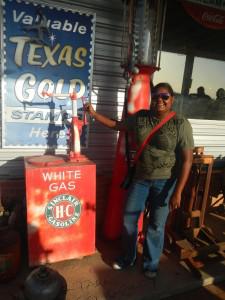 It's not what you think

When you first get to Texas Pride you have to give yourself a minute to adjust to the surroundings. Originally built as an old filling station, you might ask yourself if you arrived at the right place. You're surrounded with old memorabilia and nostalgic signs. Once the sweet smoky smell from the grill hits you though, you definitely know you are in the right place! The food is served up in the traditional cafeteria style setting, where you order your meal by the pound and then select your sides and cool drink. You then carry your food out to the eating area (inside or out) and collect your obligatory slices of white bread and add your choice of succulent sauces. I recommend the spicy, but the sweet will work if your not a fan of heat.
What makes Texas Pride's BBQ so awesome? It begins and ends with the meat, and in Texas that means Beef. You can get BBQ pork and sausage (and trust me we did) and even turkey, but you can't leave Texas without having yourself a piece of brisket. What makes theirs so great is their deep rooted tradition of smoking their brisket over mesquite coals for hours until the meat is delicious and tender. Then its put on the line and sliced and served to order. We took one bite and we were hooked!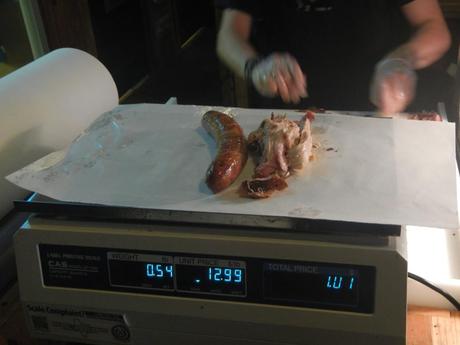 You can't go wrong with Meat by the Pound!
When Lauren and I went she chose the two meat combo and I chose the three meat. This gave us the opportunity to try everything they had. In addition to the brisket, the ribs were good, but the other standout was their house made Country Pork Sausage. It was juicy and meaty with just the right amount of spice without the heavy fattiness you normally find in a commercial sausage. As far as the sides go, follow Texas BBQ tradition and have their home made potato salad. For your other side the macaroni and cheese is a must have, it's creamy and delicious and made with lots of cheese. Just the way I like it! How about the desert? I'm sorry to report that after pounding down all the BBQ and Sides, plus a few Shiners, these ramblers were too full to try it.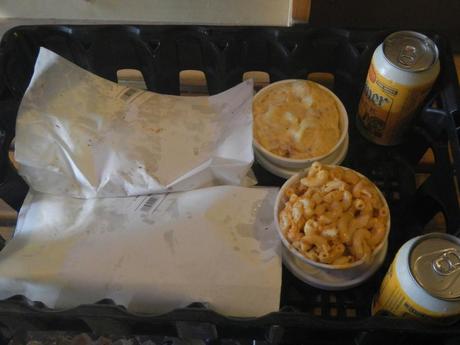 We were Fully Loaded!
Now, at most other restaurants, once you finish your meal you typically have to pack it up and head home. Well not here! Once we finished our meal we went outside and enjoyed live music and dancing in addition to a nice little playground area for the kids. They also host many events and a weekly bike night. With so much to offer in addition to a wonderful meal, Texas pride is a must next time you are hungry in San Antonio.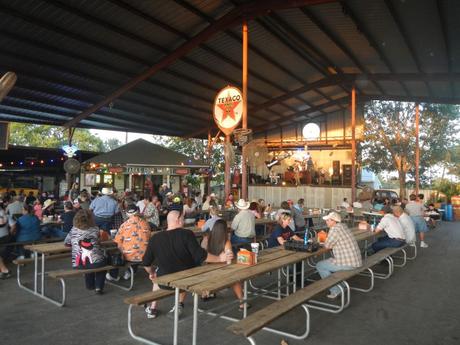 Outside Seating and Live Music
Tell us about your BBQ Experiences below!
See the Gallery of all the great pictures we took!
















We were Fully Loaded!
You can't go wrong with Meat by the Pound!