My Dad recently found a Groupon for a restaurant that he and my Mom used to dine at over 30 ago called Little Bucharest.
After seeing the Groupon come through his email, he decided to check out the menu and see what had changed in the years since he had been there. For one, he learned that the restaurant moved locations and is now in Chicago's Old Irving Park neighborhood. He also noticed that the menu had been modernized and updated. Specifically, the menu included some Greek and Mediterranean dishes in addition to the classic Romanian ones that the restaurant became known for.
When we got to the restaurant at 6:45, there were only a few diners in the restaurant. A lack of busyness on a Friday night is usually not a good sign for a restaurant, but Little Bucharest proved my preconceived notions wrong. I think one explanation for the limited number of patrons is the fact that Little Bucharest is pretty far north and west in the city. For people who live closer to the loop and may not have cars, it could prove difficult to get to. But if you do have access to a car or can take public transportation, I would suggest you hightail it to this restaurant, because the distance is definitely worth it. Also, I should note that by the time we left around 8:30, there were quite a few more people eating!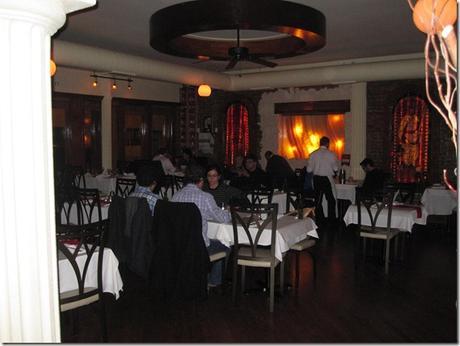 Generally, the atmosphere is really nice at Little Bucharest (PS – Bucharest is the capital of Romania). It is sort of dark, which is not great for blog picture taking (sorry for the flash!), but is a nice relaxing environment. What makes the ambiance in this restaurant even better is the quality of the staff. The maître 'de, who we think is also the owner, was extremely friendly and welcoming the moment we walked into the restaurant. He continued to come over and check on us throughout the course of dinner making sure everything was up to par. While receiving too much attention can sometimes get annoying during a meal, this guy struck the perfect balance.
Our waiter was also knowledgeable, friendly and beyond gracious. He, like the owner, checked in on us often, provided us with explanations of the Romanian dishes and even offered us recommendations on his favorite dishes. To boot, he insisted that we take an extra bottle of wine home because we were too full to enjoy a dessert that he wanted to give us on the house!
Speaking of the wine, the four of us (my Dad, Mom, Kate and I) enjoyed a Romanian Cabernet Sauvignon. The waiter informed us that this wine wouldn't be like the big bold ones that you might expect from Napa, but that it was still a good wine. And for the $25 price tag per bottle, I thought it was great.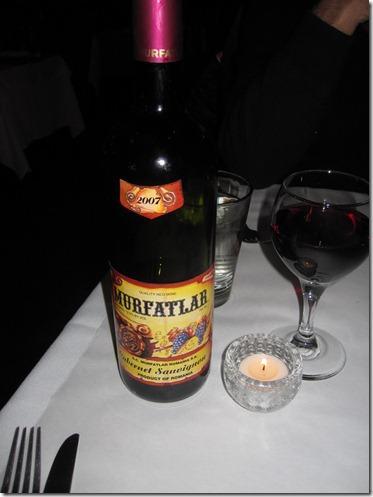 As for the food at Little Bucharest, I would say that it is pretty meat dominated. That isn't to say that a vegetarian couldn't eat here, because they certainly could, but I think that the most interesting of all the entrees that I saw had meat in them. I don't eat a ton a meat when I am out because I am often not sure of the source, and prefer to eat stuff that is local, organic and/or raised ethically. However, I did later learn that Little Bucharest does try to source its meat and dairy from local farms that produce their product in sustainable ways.
One of the other reasons I sometimes opt to eat veggie when I dine out is that these dishes can be some of the best options on a menu! While Little Bucharest didn't have a ton of veggie offerings from an entrée perspective, they did have lots of delicious looking soup and appetizer options that the waiter recommended. One of these dishes was the "Ciorba de Borscht," or Beet Soup.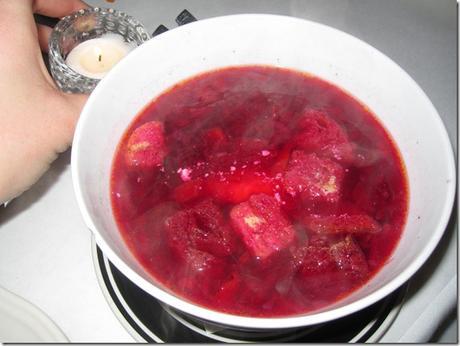 While the picture might not be much to look at, don't let that fool you about this soup. Borscht is popular in many Eastern European counties including Romania, Poland and Russia and every country makes it a slightly different way. My Dad could remember getting a cold Polish version many years ago and being turned off from all beet soup from then on. Well this beet soup turned his opinion around!
It was chock full of beets and cabbage (loved this addition) and was absolutely perfectly seasoned. Little Bucharest also stirred in some sour cream to the soup which offered a nice balance to the tartness of the soup. I also took this opportunity to dip the restaurant's fresh, homemade bread into the soup.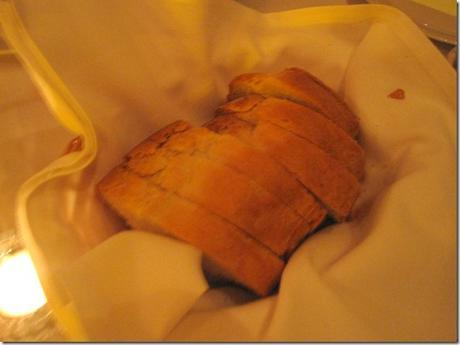 In addition to the Borscht, we also got some saganaki, which is not traditionally Romanian, but the owner insisted was so good that he had to put it on the menu. Let me tell you, he is not wrong.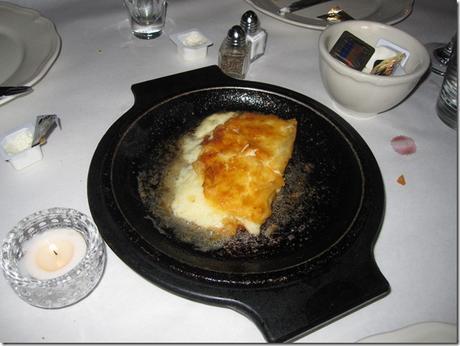 My whole family agreed that this was some of the best saganaki that we had ever had. I am not sure if it was a specific brand of kasseri cheese or if the chef seasoned it just right, but we all loved this dish.
Per the recommendation of our waiter, I ordered the "Vinete" Eggplant Spread for my entrée. This dish is listed as an appetizer on the menu, but it was a generous portion thanks to the plentiful amount of dip, pita slivers and fresh salad that was full of cucumbers, olives, onions, tomatoes and fresh feta cheese.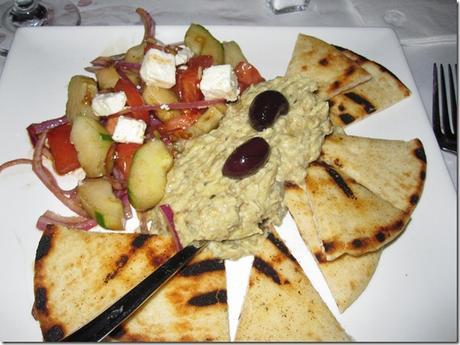 The eggplant spread was very creamy and had a good balance of flavors thanks to (I think) garlic, lemon juice, olive oil and roasted eggplant. I actually took some of this dip home with me because I got full eating of my parents' and sister's dishes.
They all ordered different entrees and we did a rotation around the table, so that we could try a bit of everything. My dad ordered the Bucharest Signature Braised Short Rib Goulash.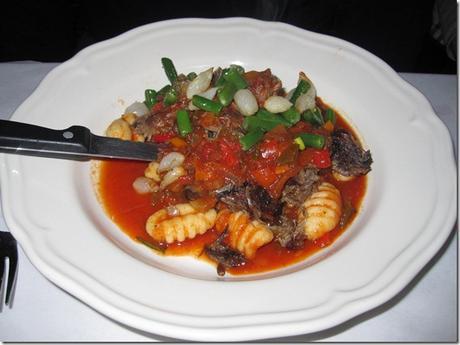 The short rib came in a tomatoes stew that included green beans, pearl onions and homemade gnocchi. Traditionally, you might expect goulash to be served over mashed or roasted potatoes or with plain white rice, but I thought that addition of gnocchi was not only delicious, but it was also unexpected and unique. The seasonings in this dish were also completely unique and unlike anything flavor combination I have ever had. There was a subtle sweetness (perhaps from cinnamon or nutmeg) that complemented the tender short rib so nicely. All I could think about when I ate this dish is how much Tommy would LOVE it.
Another person I thought of during this dinner was my brother-in-law Ben. That guy is in love with schnitzel and when I tasted my Mom's dish, I immediately knew we had to bring Ben back here to get his fix.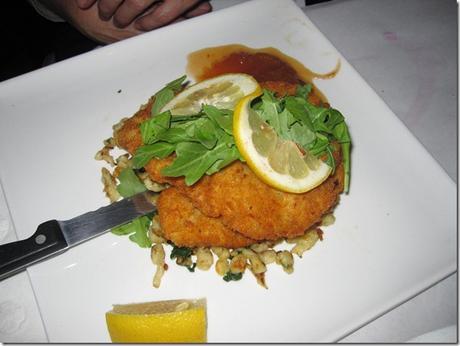 My Mom kept exclaiming while eating this pork schnitzel: "this is the best schnitzel I have ever had, we have to bring Ben here." From what I tasted, I could definitely agree with her. It was lightly fried, had a crispy exterior and was served over a bed of horseradish spatzle(!!!). I absolutely love spatzle, which is a type of egg noodle that is traditionally served in German cuisine, and the fact that this had horseradish in it, put it over the top. It made for flavorful noodles of course, but when you added it to your fork with a bite of the schnitzel, it was the perfect pairing, flavor and texture wise. Finally, the dish was served with arugula (which I think is a great addition because it cuts the heaviness of the fried pork a bit), some bacon and a red pepper coulis sauce.
For the last dish of the night, Kate got the stuffed cabbage. Again, as I am sure is no surprise to you, this dish was over the top.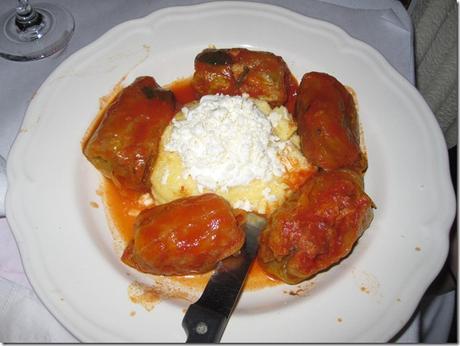 The mini stuffed pickled stuffed cabbage leaves were filled with a mixture of pork, ground beef and sautéed rice. They were then stewed in a tomato jus and served alongside some polenta with crème fresh on top. Not only were the seasonings in the meat mixture fabulous, but the pickling of the cabbage was such a great addition because it gave some acidity to the dish. The polenta was also perfectly cooked and tasted fabulous with the tomato jus.
All in all, everything tasted amazing and presented beautifully. We could not believe that this small restaurant put so much effort into coming up with complex flavor combinations, non-traditional pairings and lovely presentation. It is even more impressive if you consider the very small kitchen in the restaurant that has one tiny woman doing all the cooking!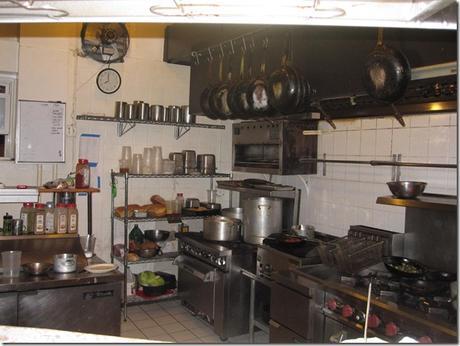 I think that, if possible, the little lady doing all the cooking, made me love this restaurant even more. It was also interesting hearing about how the place has adapted and changed over the past 30 or so years from the time my parents went there (before they had us kids).
Even though its not as easy to get to as some of my favorite neighborhood spots, Little Bucharest is worth the extra effort. I am already scheming to take Tommy here next time he is in town.
Have you ever had Romanian food before? If so, what is your favorite dish on the menu?