A new batch of brunches with Kristin Bauer and Allan Hyde will go on sale this Saturday June 9.
Buy your brunch with Allan starting at 14.00 CET and with Kristin at 13:00 CET at this web URL.
The brunch with Allan will take place on Saturday September 1st and you can break bread with Kristin on Sunday September 2nd.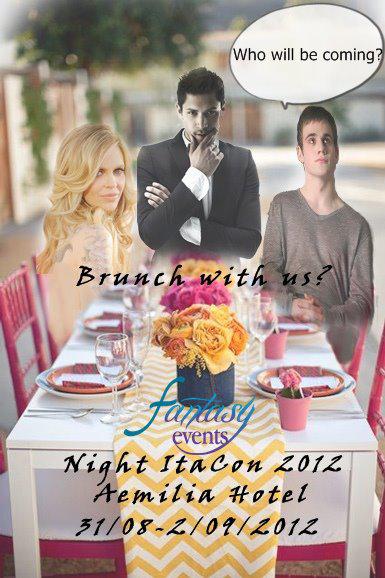 The brunch is limited to 8 people per table with the guest, so this is your change to chat up close and personal with Kristin and Allan or with one of the other guests of Night Itacon.
I will be present at both brunches so come join me!
This is the line up of announced guests:
Kristin Bauer – True Blood, Once Upon a Time
Allan Hyde – True Blood
Gale Harold – Queer as Folk, Desperate Housewives, Hellcats, The Secret Circle
David Anders – Alias, Heroes, The Vampire Diaries, Once Upon a Time
Alex Meraz – Twilight
Guri Weinberg – Munich, The Twilight Saga: Breaking Dawn
Taylor Kinney – Trauma, The Vampire Diaries
Dorian Gregory – Charmed
Night ItaCon will be held in Bologna from August 31st to September 2nd 2012.
Next Batch is going on sale on Saturday 2nd June at 1PM (GMT+1 /Rome time) and it will be open till 9PM (Rome time). It will be possible to book a seat at the Brunch with either David Anders (held on Saturday) ; Guri Weinberg or Dorian Gregory (held on Sunday) .
The Brunch with Alex Meraz ;Allan Hyde;David Anders will take place on Saturday, the one with Kristin Bauer -Gale Harold and Guri Weinberg- Dorian Gregory will be at 2 different shifts on Sunday.
There is a maximum availability of 8 people per table with the Guest.
As in all Extra Options, to take part at event it will be necessary to hold a valid invitation/Pass to the Convention. So even if you book your Brunch now, you will have to book a Pass before the event starts.
For more information about Night Itacon visit http://www.fantasyentertainmentevents.com/wordpress/night-itacon/
Per i nostri amici italiani:
Questo Sabato 9 Giugno sarà messo a disposizione il prossimo lotto per la prenotazione di alcuni posti al brunch con gli Ospiti della Night ItaCon.
Dalle ore 13:00 (ora italiana) a di Sabato 9 Giugno, sarà possibile prenotare un posto per il brunch con Allan Hyde, la vendita del brunch con Kristin Bauer commincia alle 14:00. Prenotate i vostri brunch qui.
Sarò presente ai entrambi brunch, vi aspetto lì!
I posti sono limitati ad un massimo di 8 per ospite e verranno messi a disposizione pochi posti per volta.
Il Brunch con Alex Meraz / Allan Hyde/David Anders si terrà di Sabato 1 Settembre, quello con Guri Weinberg /Dorian Gregory e  Kristin Bauer / Gale Harold in due fasce orarie diverse della Domenica 2 Settembre.
Come tutte le opzioni extra, per partecipare alla Con, è necessario avere un invito/Pass Valido. E' possibile prenotare il Brunch prima ed il Pass successivamente.
Per ulteriori informazioni visitate: http://www.fantasyentertainmentevents.com/wordpress/night-itacon/