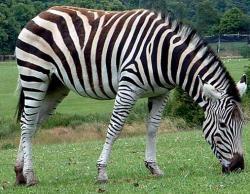 How did the zebra get his stripes?: image via justanimal.org Researchers from Hungary and Sweden have conducted some fascinating studies on light reflection and proposed a theory of why zebras have stripes.
Following the hypothesis that reflection, or polarization, of light is related to the attraction of horseflies, the team set up four artificial horse models - black, brown, spotted, and striped - with sticky surfaces, so that the models could retain the horse flies that landed on them.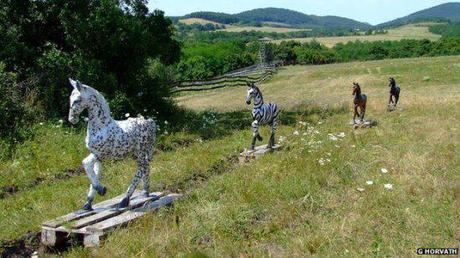 'Sticky' horse experiment tests how polarization of light effects attraction of horseflies: photo by G Horvath, image via BBC.co.uk/nature

As expected, the horseflies were found predominantly on the black and brown models than the spotted and striped models. Dr Susanne Akesson, from Lund University, explained this to BBC Nature that what attracted the horse flies to the dark, solid color horses, was the horizontal polarization of light reflected from the dark horses.  She compared the vision to that of a snake following flat waves of light on the ground.

White horses are apparently much less bothered by horse flies because they reflect unpolarized light, which travels along unpredictable planes, each and every way.   Additionally, the team found that of the four sticky horse models, the striped one attracted the fewest flies.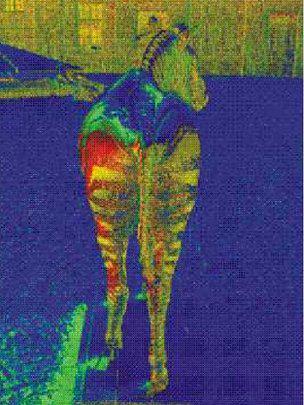 Light polarised off a zebra's coat (colors denote shading of light): image via BBC.co.uk/nature

While BBC Nature points out that there are many theories for why zebras have stripes, including those that its stripes may confuse predators and that the stripes may help regulate a zebra's temperature, the horsefly theory does make horse sense.

After all, horseflies can carry diseases that can immobilize horses.

sources: BBC Nature, The Journal of Experimental Biology

That's the buzz for today!