A Berkeley Lab research team in California has successfully restored an audio recording which was originally captured by a phonograph designed by Thomas Edison in St. Louis in 1878. To restore this century-old mixtape, the research team created a 3D model of the grooves in the foil and ran it through a software that recreated the original audio track. The great mystery of the recording's contents is revealed with a 23-second cornet solo of an unidentified song, followed by a man's voice reciting "Mary Had a Little Lamb" and "Old Mother Hubbard." The man laughs at two spots during the recording.
A Connecticut woman donated the tinfoil to the Schenectady museum in 1978 for an exhibit. The woman's father had been an antiques dealer in the Midwest and counted the item among his favorites, museum curator Chris Hunter said.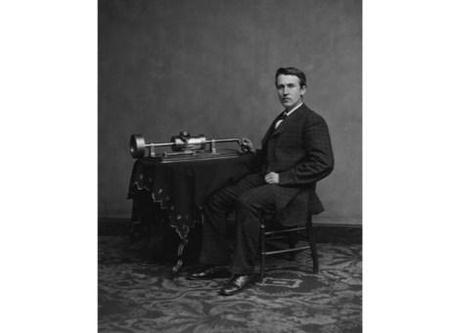 Image courtesy of the Library of Congress, Brady-Handy Photograph Collection
A crank turned the cylinder under a stylus that would move up and down over the foil, recording the sound. The stylus would eventually tear the foil after just a few playbacks, and the person demonstrating the technology would tear up the tinfoil and hand the pieces out as souvenirs, according to Hunter.
"Realistically, once you played it a couple of times, the stylus would tear through it and destroy it," he said.
The modern masses can now listen to what experts say is the oldest playable recording of an American voice and the first-ever capturing of a musical performance, thanks to digital advances that allowed the sound to be transferred from flimsy tinfoil to computer. There will be a listening party this week at the Museum of Innovation and Science in New York.
N.