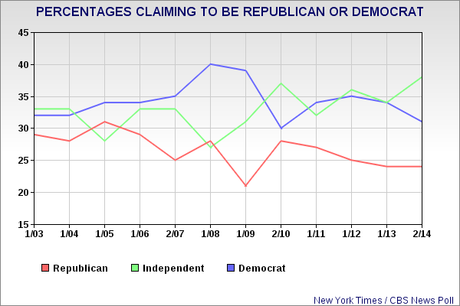 The chart above is made from information in a New York Times / CBS News Poll -- the last one being done between February 19th and 23rd of 1,644 nationwide adults (519 Republicans, 515 Democrats, and 550 Independents).
Note that the Republican Party has been the minority party for more than a decade now. Only one time has it risen to a popularity of 30% during that decade (31% in 2005). On the other hand, the Democratic Party has consistently had more citizens willing to identify with it during that time period -- and at no time has it dropped below 30%. Currently party identification stands at:
Republican..........24%
Democrat...........31%
Independent..........38%
Of particular importance is the recent rise of people claiming to be Independents. This shows the people are angry with both national parties. The question is -- will those Independents vote in the upcoming mid-term election, and if they do, which party will they take their anger out on?
------------------------------------------------------------
Meanwhile, that same poll surveyed its respondents on their preferences for president in 2016 -- asking them if they wanted certain candidates to run. As expected, Hillary is the huge favorite of Democrats, with 82% of them wanting her to run.
Also as expected, the Republicans still don't have a real favorite -- with no candidate having a majority of party member wanting him to run.
But the really interesting part was what the Independents want. More than half of the Independents wanted Hillary Clinton to run for president, 20 points more than for any other possible candidate. I can't remember any candidate that wasn't a sitting president being this much of a prohibitive favorite this long before an election.