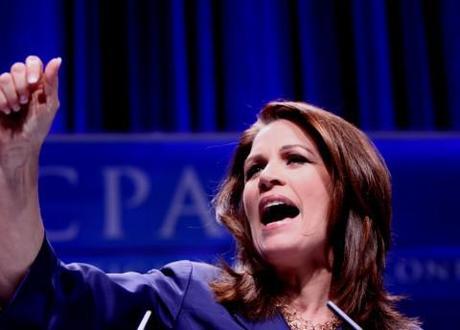 Michelle Bachmann speaking at CPAC 2011 in Washington, D.C. Photo credit: Gage Skidmore.
The biggest debate to date of the Republican presidential nomination race took place in Iowa last night. Predictably, commentators are split as to which of the eight candidates emerged victorious. Michele Bachmann certainly caught viewers' attention, thanks to her fierce sparring with Tim Pawlenty, who accused his rival of "making false statements" and questioned her achievements in Congress. At one point, Bachmann compared the Minnesota governor to Democrat US president Barack Obama; surely the deadliest insult in the GOP canon. The debate was also notable for its absentees: Texas governor and prayer-a-thon fan Rick Perry plans to announce his candidature on Saturday, making him ineligible to join in the fun this time; and Sarah Palin has yet to clarify her presidential intentions.
No compromise. One particular moment in the debate has captured commentators' imaginations. When moderator Brett Baier asked the eight candidates whether they would turn down a deal that would reduce the deficit by $10 for every $1 increase in tax, all of them said they would. Writing in The Atlantic, Conor Friedersdorf was deeply unimpressed: "By prioritizing tax cuts above all else, the GOP has long been complicit in growing the deficit and the debt. If all of these candidates would reject a compromise much better than anything they're likely to get as president, what good are they?" Friedersdorf argued that the candidates are simply pandering to the Republican primary electorate. Ben Adler at The Nation blog was similarly annoyed, arguing that the reason the US credit rating has been downgraded is because the Republicans refuse to raise taxes: "And there they all were on Thursday, saying they would not raise revenue no matter how sweet the deal."
"I think there's room in the race for Governor Perry," Michele Bachmann told a debate moderator.
Smackdown? The New York Post's John Podhoretz was glued to his screen, describing the debate as "the most sheerly entertaining political event in decades — a rapid-fire, no-holds-barred multiplayer smackdown". Writing in The Guardian, Euan MacAskill was considerably less entranced, describing the Republican hopefuls as "lacklustre" and "dull" during the debate. MacAskill even suggested that the absent Rick Perry now has a greater chance of winning the Republican nomination, thanks to the poor performance of his fellow candidates. Over at The Daily Beast, Michael Tomasky agreed, declaring the Texas governor the "winner" of the debate: "The weak showing made it clear: the field is wide open," he wrote.
"Her record of accomplishment and results is nonexistent," said Tim Pawlenty during the debate.
Bachmann v. Pawlenty. But Howard Kurtz, also on The Daily Beast, felt Michele Bachmann had put in a power house performance thanks to her on-screen spat with Palwenty. According to The Washington Post's Fix blog, however, Bachmann didn't come out of the debate unscathed: "The fact that Bachmann felt the need to engage Pawlenty — and repeatedly at that — could have the effect of unnecessarily elevating him as a chief competitor in Iowa." Pawlenty needed to make headline-grabbing jabs at his opponents, wrote Neil King and Jonathan Weisman in The Wall Street Journal, because of his poor showing in national and Iowa polls. Meanwhile, the feeling from The Economist's debate live blog was that Mitt Romney had come out on top by remaining "above the fray". Michael Scherer on the Time live blog agreed, pointing out that when Pawlenty made a joke about his rival's wealth, Romney simply refused to engage: "'That's just fine,' he says of Pawlenty's joke. Translation: Find someone to attack me who matters."