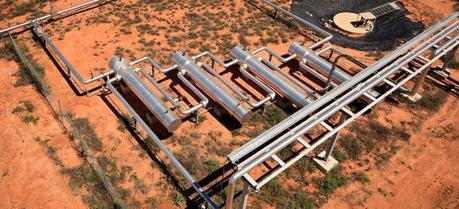 Convective or Enhanced Geothermal System in South Australia. Geodynamics' Innamincka Deeps Project power plant. (Credit: Geodynamics Ltd)
The Board of the Australian Renewable Energy Agency (ARENA) has endorsed the International Geothermal Expert Group's report on the barriers and opportunities for geothermal energy in Australia.
ARENA Chair Greg Bourne said ARENA convened the group to analyze the geothermal sector in Australia and present the Board with options for realizing the potential of geothermal in the coming decades.
SEE ALSO: Analysis: Renewable Energy Development in Africa
"The IGEG report and supporting studies establish a robust evidence base that should inform the design of future policy and programs to support the long term commercial development of geothermal energy in Australia. This will ensure that geothermal energy is developed as a viable source of energy on a sustainable, commercial level without long-term subsidy," Mr Bourne said.
Chair of the International Geothermal Expert Group, Professor Quentin Grafton, said that the report provides a robust evidence base.
Some of the report's highlights include:
Australia has a large geothermal potential with prospective resources that could be used to generate direct heat or electricity.
In 2014 the Australian geothermal sector is facing a funding crisis as many private sector investors and partners have decided to exit.
The costs of drilling are the largest contributor to the overall capital costs of geothermal projects in Australia.
Utility-scale power generation from geothermal projects is not cost competitive in 2014 and is not expected to be cost competitive in 2020.
Utility-scale power generation from geothermal projects may become cost competitive with fossil fuel dispatchable power generation by 2030
The most prospective markets for geothermal energy in Australia out to 2030 are in remote locations that are off the grid and where there are commercial-scale applications for either electricity or direct heat.
Direct heat uses in the gas sector, especially in the processing of shale gas, in locations where both gas and proven geothermal resources are co-located offer the most likely cost-competitive, commercial-scale market for geothermal energy in the next decade.
The full text of the "Looking forward: barriers, risks and rewards of the Australian Geothermal Sector to 2020 and 2030" report is available for download.