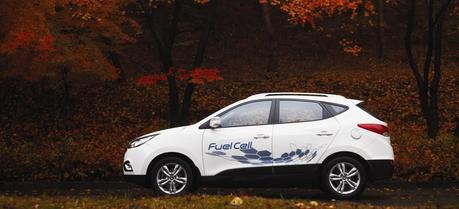 The updated version of the Well-to-Wheels report particularly adds an assessment of electrically chargeable vehicle configurations, such as fuel-cell electric vehicles. On the photo: Hyundai ix35 Fuel Cell. (Credit: Hyundai Motor Corporation)
A new version of the Well-to-Wheels Analysis of Future Automotive Fuels and Powertrains in the European Context was published on 25 March by the JRC and its partners in the JEC Consortium.
The updated version includes a longer term outlook by expanding the time horizon from 2010 and beyond to 2020 and beyond. It particularly adds an assessment of electrically chargeable vehicle configurations, such as plug-in hybrid, range extended, battery and fuel-cell electric vehicles. It also introduces an update of natural gas pathways, taking into account the addition of a European shale gas pathway. Furthermore, biofuel pathways, including an entirely new approach to nitrous-oxide emissions from farming, were thoroughly revised.
The report aims to establish a consensual well-to-wheels energy use and greenhouse gas (GHG) emissions assessment of a wide range of automotive fuels and powertrains relevant to Europe in 2020 and beyond. A specific objective is to have the outcome accepted as a reference by all relevant stakeholders, including industry, academia and government.
Results on GHG emissions have been published for all vehicle and energy types compared to a conventional vehicle baseline. Options exist for reducing GHG emissions from transport, but both the vehicle and energy aspects have to be taken into account, for example the car efficiency and the production paths of the propulsion energy.
In 2003 JEC issued its first Well-to-Wheels study, a type of analysis which takes into account the entire energy lifecycle of fuels and powertrains and their possible combinations. It has been updated at regular intervals according to new data and conditions.
The JEC consortium comprises the JRC, EUCAR (the European Council for Automotive R&D) and CONCAWE (the oil companies' European association for environment, health and safety in refining and distribution). These organizations have collaborated since 2000 in several areas related to the sustainability of the European vehicle and oil industries, providing facts relating to energy use, efficiency and emissions from a broad range of road vehicle powertrain and fuel options. The JEC Well-to-Wheels (WTW) reports and methodology have become a scientific reference in the European energy research landscape.
The report is available for download here.