If you're new here, you may want to subscribe to my RSS feed. Thanks for visiting!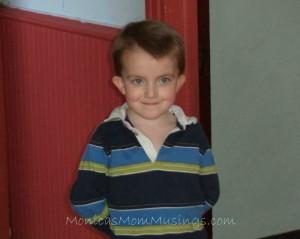 All year long I have been talking about my 5 year old son and what I think is going to happen to him with school in his Kindergarten year which he's currently in.  And back at the beginning of the month when we had his parent/teacher conference we had gotten the news which I expected to hear from his teacher.  "I recommend him for retention", his teacher said.
While this was something I had anticipated his entire life actually, it's also new territory to me.  His older sisters both have April birthdays.  Even though my middle daughter was behind even in Kindergarten it was only in the area of reading.  With my son it really just looks like a matter of his age getting in the way here.  It's not that he can't do what needs to be done, it's just that his attention span to do the work isn't where it needs to be.  And that's fine, he's young.  It's to be expected.
My biggest concern with him repeating Kindergarten has always been for him socially.  He has a lot of really great friends.  And honestly, I really like the kids he's friends with.  Lets face it, our kids all have someone we really would rather was not their friend, but really these are a good group of boys which he has befriended.  So I'm worried how he'll feel watching these kids go on without him.  What will they say to him?  Will they make him feel like he's not smart enough?
I know in my heart of hearts that this is the best time to do it though.  The older he gets the harder other kids will be on him and the harder he'll be on himself.  He's a likeable kid so I know he'll make new friends without a problem.  Not to mention if we keep pushing him along I know it's only going to get harder.  He'll begin to notice how far behind his classmates he is.  They'll even begin to notice and point things out.
But still there have been things that I wasn't sure how it would work.  For example they do an end of the year celebration for the Kindergartners.  It's kind of like a graduation, but not really.  They do get a certificate, but I wasn't sure if somehow his would be different than the other kids.
So before we made anything official I wanted to see how the school would handle this retention.  I mean I know they know what they're doing, but I don't and I like to make sure we're all on the same page.  So I called the principal and made an appointment to meet with her to discuss things before I gave her my letter in writing that I wanted my son to repeat Kindergarten.  I mean don't get me wrong, we were doing it no matter what (I already had my letter written), but I just wanted to know how it was going to work.  So we met with the principal and I'm excited about the possibilities here.
End Of The Year Celebration
Our son will still get to participate in this event.  He will get a certificate that looks just like the rest of his classmates.  It's going to be very generic and just that, a celebration of the end of a long hard year at work.  So that works out great for me.  Even more importantly for my son.
We haven't told him he's repeating Kindergarten.  I don't really plan on actually coming out and saying, you're staying back.  So I don't want him being treated differently making him question why the different treatment.  Whatever I do say to him will be along the lines of they enjoyed having you in Kindergarten so much that they'd like you to stay.
Next Year
One of the things my husband and I have been debating is whether it's better for him to repeat with the same teacher, or have a new teacher.  My husband feels like our son already knows his current teacher and that will help him to succeed next year.  I feel like he would feel more like he's moving on if he has a different teacher.  While I know that his current teacher adores him and thinks he's a great kid I think there still might be some prejudices there.  She'll remember the boy who couldn't sit still which might lead to some hand holding.
We both shared our thoughts with the principal on his teacher placement for next year.  Ultimately we both know she's going to do what she's going to do, but she did take in what we both had to say.  One of us is going to be pleased with her ultimate decision.  I think it's going to be me.
Since we are still on a half day Kindergarten I wanted to make sure my son would remain in the morning.  That has become our routine.  So I wanted to make sure he could stay in the morning.  The principal seemed receptive to that and said she will talk to the secretary about making sure he remains in the morning.
Everything seems to be falling into place and now that I have talked to the principal I feel like from here on out things will be great.  My son is going from being one of the youngest in his grade to one of the oldest and he is going to be put in a leadership role.  He is going to flourish under that role.  It's hard having two older sisters always telling you what to do.  Whenever his sisters aren't home if I leave a room my son asks me if he's in charge.  Now if that's not someone who's dying for someone to put him in a position of leadership, then I don't know what is.
That's exactly what this opportunity is for him.  He will be in a position where he already knows the daily routine and knows where everything is.  He'll go in there and show everyone else what they are supposed to do.  I see a lot of improvement in him over the last few weeks and I think that's just going to continue to grow.
While it might seem like it would be boring to do the same thing over again I think that his new role as someone for others to look up to is going to really keep him interested.  Plus he's getting more interested in sitting and reading and finding letters and numbers.  No matter how much I have tried to show him letters and talk about sounds they make he just hasn't been that into it.  Now he's pointing out letters wherever we go and playing around with the sounds they make.  He's just more into it and I can see how that's going to play out for him in repeating the grade next year.
So yeah, I'm excited.  I'm excited to see how he does and how this works for him.  I'm excited to see him flourish.  I'm excited to see him get excited about reading.  All of the other stuff socially will be fine too.  Repeating a grade doesn't have to be a bad thing.  This is not a negative, it's a positive.  And I'm glad that we're at a school which recognizes this and works with us to make this an easy transition.
Did you ever have to repeat a grade in school?  How did it make you feel?