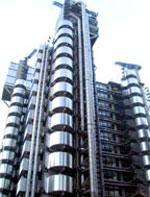 Cain Wall is 108 years old. Despite his advanced years the frail great-grandfather is at the centre of a long-running legal struggle to reclaim the "ill-gotten gains" of slavery. For many he has come to represent the living face of the African Holocaust, proof that traditional forms of slave labour existed well into the 20th Century.

Published in New Nation 17th November 2006
Wall is among the plaintiffs challenging 17 companies, including Lloyds of London, whom they accuse of knowingly profiting from the horrific trade which claimed millions of lives.
Although born some thirty years after abolition, Wall and his family were kept in bondage conditions until the 1960s in the Deep South states of Mississippi and Louisiana.
Insurance companies named in the lawsuit are accused of oiling this system by insuring slaves as collateral, and of owning thousands of slaves themselves.
If successful the case would open the door to compensation claims from descendents of African slaves worldwide, including from this side of the Atlantic.
Campaigners led by New Jersey lawyer Deadria Farmer-Paellmann took their case to an appeal court in Chicago last Wednesday demanding a fair share of wealth generated from the forced free labour and the oppression of stolen Africans.
Farmer-Paellmann, 40, is among seven appellants can prove a direct DNA link between herself and ancestors exploited by corporate companies.
As a legal student she discovered her great-grandfather Abel Hines, a slave on a South Carolina rice farm, was insured by Aetna Inc. to the benefit of the slave-master.
She set about investigating the connection between insurance firms and the transatlantic slave trade, and discovered predecessor firms to the giant corporation JP Morgan insured over 13,000 enslaved Africans, and owned another 1,250.
They must have known of the horrors faced by slaves because they refused to pay out for people who were lynched or beaten to death at work, she concluded.
'Millions of Africans were enslaved. Many never made it to the Americas, they were lost in the sea, their bodies dumped because Lloyds had policies where if you are sick and you make it to the shore, if you die on the shore, you don't get compensation for the enslaved African', Farmer-Paellmann said.
Ed Fagan, a lawyer who has successfully represented Jews seeking compensation for stolen Nazi gold from Swiss banks, added: 'Lloyds knew what they were doing led to the destruction of indigenous populations.
'They [slave-masters] took people onboard slave ships and wiped out their identities. There is ongoing injuries that these people suffer.'
Lloyds of London are one of the few insurance companies who have not publicly acknowledged their role. A spokeswoman said the firm is refusing to comment until the end of the Chicago trial.
By contrast many of their American counterparts have not only admitted to complicity in the trade, but have actually apologised.
Chief executive of JP Morgan William Harrison, whose subsidiaries include Morgan Stanley bank, issued an apology last year and admitted: "the slavery era was a tragic time in US history and in our company's history."
The admission came after pressure from campaigners led to several US cities passing 'Slavery Era Disclosure Laws' forcing companies to research their own history and make it public.
No similar law exists in Britain, giving a cloak of protection to the likes of Lloyds of London and other UK companies who remain silent about their shameful past.
While many US companies have come clean they are still refusing to offer compensation. The defendants in the Chicago case are collectively arguing that the case is "out of time" because 150 years have passed since slavery was abolished.
The companies claim there is no direct link because the appellants themselves were not actually slaves, and that it would be practically impossible to define who was a slave ancestor and how they have personally suffered. Some people even argue that 'reparations' have already been given in the form of affirmative action.
Cain Wall, and his daughters Mae and Annie, are presented as living evidence that slavery survived after its official abolition, and that the legacy extends to the present-day disadvantages suffered by African heritage people.
Annie ran away from the plantation aged nine, but was forcibly returned under the threat that her whole family would be killed if she did not.
Sister Mae described their life: 'They beat us. We ate like cows, we didn't eat like dogs because they bring a dog to a certain place to feed it. We had to drink water from a creek.
'Picking cotton, pulling corn, picking peas, picking butter beans, picking spring beans, digging potatoes, whatever it was that's what you did, for no money at all.'
The family lived in an out-of-the-way plantation were authorities did not pay much attention to, but US government records show slave-masters being prosecuted right up until the late 1950s.
The South's addiction to slavery was one of the main causes of America's civil war with Abraham Lincoln officially abolishing it 1863, in the midst of the fighting.
Despite this, "involuntary servitude" continued because farm owners exploited ignorance of life and laws beyond the plantation.
The lawsuit estimates the "market value" of each slave to be $850 million, putting the total figure into the trillions. Banks, rail and tobacco companies had amassed great wealth while enslaved Africans had lost 450 years of paid labour.
But according to Esther Stanford, a UK-based reparations campaigner, the case is "flawed" because it focuses too heavily on African
Americans instead of slave descendents worldwide.
Isolated legal actions left the door open for institutions to offer token gestures and cheap ways of washing their hands of blood.
PJ Morgan set up a $5 million scholarship scheme for African-American students last year. Plaintiffs in the US case have calculated that $1 trillion is owed in reparations.
They want to cash to be paid into a mega trust fund to combat urban poverty and go towards health, housing and education improvements for descendents of slaves.
Author H. Khalif Khalifah, from N'COBRA (National Coalition of Blacks for Reparations in America), predicted the case would almost certainly fail but thought the exercise was useful to build public awareness.
'I have no faith in any structure that was built on slave labour', he said.
Campaigners were furious to discover on Wednesday that a white man had mysteriously replaced Ann Williams, the black woman judge who was part of a three-judge team.
The hearing was an appeal against the judgment of a lower court in 2004 when Judge Charles Norgle dismissed the case because there was "no-one alive today" who was affected by slavery.
Stanford has recently returned from a Global Pan-African Reparations and Repatriation conference in Ghana where likeminded activists agreed to work together across the Diaspora.
Instead of tackling individual companies, attention is shifting to the United Nations where they plan to present a 'Genocide Petition' next year, coinciding with the bicentenary of slavery abolition in Britain.
Talks have been taking place with officials in Zimbabwe and other African states as campaigners seek support for a new international tribunal to tackle the issue of reparations.
'Unless we adopt a global strategy presenting a united front we will never have success in any one region. We have to start with contemporary crimes against humanity that are being committed against African peoples and then trace it right back to enslavement.'
The American action may prove ultimately unsuccessful - the result is due in November - but it looks to have provided a platform for further public debate around slavery and reparations.
One voice typical of those demanding some form of restitution for slavery is genealogist Antoinette Harrell. Speaking outside the Chicago court, she said: 'I am here seeking justice. We were left in poverty. My family's hardship and free labour was not in vain.'
British theologian Dr Robert Beckford, who presented the Channel 4 documentary "Empire Pays Back" last year looking into the issue of reparations, agreed.
'It still is an important process which should be seen not just as financial, but as psycho-social healing the past through educational programmes and developing new strategies for combating discrimination.
'If you've done wrong and continue to benefit from that wrong you should make amends. If you are concerned about justice in the present you've got to make sure that things which were done wrong in the past are atoned for.'