For anyone who wants some painless lessons in Shakespeare and some good laughs, catch "Shakespeare in Hollywood," the latest offering of Repertory Philippines.
Winner of the Helen Hayes Award for Best New Play (2004), "Shakespeare in Hollywood" is Ken Ludwig's comedy tale set in 1930's Hollywood about the making of the Warner Brothers 1935 movie version of Shakespeare's "A Midsummer Night's Dream"--but served with a twist!
The "real" Oberon and Puck from Shakespeare's day have taken a wrong turn in their time travel and have landed right on the sound stage of a Burbank lot, just before shooting begins. As luck would have it, Victor Jory, who was to play Oberon, walks off the picture and Mickey Rooney, who is to play Puck, has broken his leg. Max Reinhardt is ecstatic to have two wonderful, real Shakespearean actors.
What follows is a farce that involves the likes of Will Hayes, Joe E. Brown, Jimmy Cagney, Dick Powell, Louella Parsons, Olivia De Havilland, the bimbo Lydia and the Warner brothers.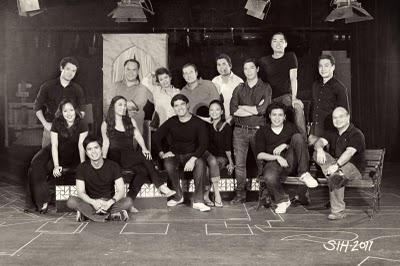 Jaime Del Mundo directs the play, which stars Joy Virata, Miguel Faustmann, Cris Villonco, Caissa Borromeo, Hans Eckstein, Red Concepcion, Robie Zialcita, Arnel Carrion, Reuben Uy, Topper Fabregas, Rem Zamora and Nic Campos.
"Shakespeare in Hollywood" runs April 1- 17, 2011, with shows on Fridays and Saturdays at 8 p.m. and matinee shows on Saturdays and Sundays at 3:30 p.m, at Onstage, Greenbelt 1, Makati City. It is presented by special arrangement with Samuel French Limited.
Comprising the artistic and creative team are Baby Barredo (artistic director), Menchu Lauchengco-Yulo (associate artistic director), Jaime del Mundo (director), John Batalla (lighting designer), Lex Marcos (set designer), TJ Ramos (sound designer) and Raven Ong (costume designer).
For tickets, inquiries and other information, call Repertory Philippines 5716926 and 5714941, or e-mail [email protected]. Tickets are also available at Ticketworld 8919999 or www.ticketworld.com.ph.
Visit www.repertory.ph, subscribe to youtube.com/repertoryphils, and add "Rep Phils" in Facebook.