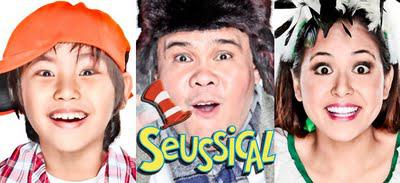 The musical "Seussical--Theater for Young Audiences" opens at Onstage Greenbelt 1 on August 13 as the Repertory Children's Theater production for 2011. It will run on weekends until December 18, 2011.
With music, book and lyrics by Stephen Flaherty and Lynn Ahrens of "Once On This Island" fame, "Seussical--Theater for Young Audiences" takes off from "The Cat in the Hat," the fun-loving hero created by Dr. Seuss and beloved of children all over the world.
The musical brings to life some favorite Dr. Seuss characters such as Horton the kind-hearted elephant, Mayzie La Bird, Gertrude with the one-feather tail, the Sour Kangaroo, and others.
Singer/stage actress Bituin Escalante joins Children's Theater mainstays and Rep stalwarts Cara Barredo, Rem Zamora, Liesl Batucan, Pinky Marquez, Ayam Barredo, Arnel Carrion, Naths Everett, Oliver Usison, James Stacey, Raul Montesa, Nacho Tambunting and others to make up the energetic singing and dancing cast of "Seussical."
Returning to the Rep stage after many years abroad is Charity Grace, now grown up, who was last seen in Rep's productions of "The Wizard of Oz" and "Annie." She is joined by newcomers Nic Campos (Rep's "Shakespeare in Hollywood") and Kawie Atwood, a former Rep actress also returning from many years abroad. Four talented children--Noah Ramos, Nacio Samonte, Nicolle Cojuangco and Alessa Zialcita--take turns playing the part of Jojo, a child whose imagination, egged on by the Cat, creates a heart-warming story of love, loyalty and caring, as well as the main message of the boundless possibilities of "thinking". Oliver Roxas, a former Rep actor who now resides in the United Kingdom, has created the artistic set and colorful character costumes that will introduce children to the works of Vincent Van Gogh. Edna Vida lends her tremendous talent to the production through the choreography that interprets the music and lyrics of this mostly sung-through musical. John Batalla will work magic once again with his lights.
To get children even more involved in the show, they are being asked to submit drawings (at least by the first of each month) that depict the most beautiful, peaceful spot they have ever seen or imagined. Twenty drawings will be picked every month to be shown during the song "Solla Solew" that a forlorn Horton sings as he imagines such a spot. Children whose drawings are chosen will be given a Dr. Seuss book courtesy of National Book Store.
For ticket reservations, call Rep 5716926 or 5714941.