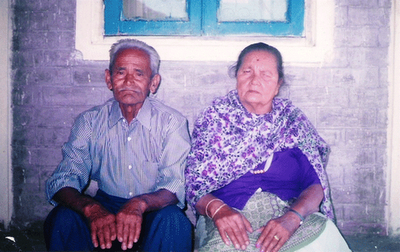 (This article is more like a grandfather telling story to his grandson. The story which is not found in the books but borrowed from the pages of past. It is a story of a grand old man from Bom Busty, Kalimpong, a retired Gorkha soldier, a World War II veteran, a father, a grandfather and a great grandfather. This is the story of late
Rudramani
Pradhan
, who passed away on November 26, 2006. The stories were recorded on my two days stay with him at Kalimpong Hospital.)
Another memorable incident in his staying out at Rangoon was meeting a young aircraft pilot from Sikkim. The crown prince of Sikkim was fighting for British army in the war.Ajatalked of a simple, down to earth persona of the Crown Prince who was around 24 years old, a nice centre forward football player and was more comfortable mingling with the army men in lower ranks as compared to higher officials.Aja narrated an incident he had heard on the battle front about the Crown Prince at a small remote village in Sikkim. It was in one of the hunting session along the jungle of Mamring near Rongli. The Crown Prince had got tired from long hours of hunting when he came across a small rutted hut that looked more of a pig sty. An old woman who happened to be of a lower caste was frying corn of maize. Finding a royal guest in his small hut she offered him torn mat made from straw, some fruits and fried maize corn. The Crown Prince ate the offerings and before leaving the place took out a small note book and asked her name. The old women was surprised and scared, with her quivering voice uttered her name. The Prince noted down her name and went off. Later on it was informed to the old woman that her entire revenue dues towards Royal Palace were pardoned. Such was the quality of the Crown Prince toldaja. In another incident a high officer in Royal army was found guilty beating up a poor peasant for unknown reason. The officer was summoned to the Durbar and the Crown Prince himself ordered the officer to take off his clothes and punished him with 50 strikes on his back with a whip.
It was duringaja's change shift work at Rangoon Petrol Pump, it was learnt that the Crown Prince of Sikkim had a fatal air crash and died when he was taking off in his aircraft. The sudden death of the Crown Prince created a furor among the many Gorkha soldiers.Ajawent on to say there were ten white soldiers and ten 13 Gorkha Rifle soldiers (that had 3 soldier from Nepal and 7 from Darjeeling districts and Sikkim) including himself who were selected to carry the dead body of the Crown Prince to Sikkim. The dead body of the Crown Prince reached Dum-Dum airport by a direct army plane from Rangoon. A special bogie of a train was awaiting them at Calcutta that made the trip till Siliguri, mussedajain his soft voice. They had reached Siliguri around 3.30 pm. A large crowd along with royal families, high dignitaries and others including the royal family of Kalimpong Raja S.T. Dorjee were at the railway station to receive the dead body of Crown Prince. The Choygal (King of Sikkim) was not present but his sons were there at Siliguri. Seven Sikkim Nationalized Transport (known popularly as SNT) buses were brought. SNT buses were then recently started. The corpse of the dead Crown Prince was kept in Deorali Gompa (monastery) where no one was allowed to have the last look at the Crown Prince. The Crown Prince was cremated at Deorali and a chorten (monument) was also constructed on his name. Seven day national mourning was observed in Sikkim. After staying for ten days in Sikkim, ajaand his fellow regiments returned to Rangoon.
After his tenure at Rangoon, 13 Gorkha Rifles moved to different countries of Thailand, Java, Hong Kong, Italy and other European countries. In one such incident in Italy the 13 Gorkha Rifles army men were invited to a feast in a local village. It was believed that the men from mountains eat grass and in the villageajaand his fellow army men found radish along with leaf and few local green grasses in the meal.Ajachuckled at me and added they had no choice other than to eat it raw. The life in war fronts was very difficult. The soldiers were deprived of waters for days and on few occasions they even had to chew there sweated army leather shoes to quench their thirst, he recollected.
When asked about the most beautiful county he had visited, he would reply without a second thought…its Greenland. When asked why it is named so he told me Greenland is an island with snow covered mountains and large ocean everywhere. When the sun's ray first touched the water the green colour is reflected, such that the green reflection is reflected everywhere. So it is called Greenland, he grinned.
I was about to hear one of a rare incidents though never recorded in pages ofhistory from aja, he told me it was in 14thAugust, 1947 at Town Hall, Kalimpong a Pakistani flag was hoisted just to find in the evening that the districts of Darjeeling was not part of Pakistan but it belonged to India. Same incident too happened in other places of Darjeeling and Kurseong. So the next day that was on 15thof Augustan Indian tri colour flag was hoisted. It was a huge confusion then, said aja. He added though he never saw the Pakistani flag being flying at Town Hall but he had heard it, on that day he was at Bom Busty. He used to have a nice collection of George V and George VI coins but after Independence rumour ran high that British coins would remain invalid so one day he threw away a bag of old British coins on the maize field just to find that none ofthem was to be found the next day around. Aja regretted he should not have done it.
In his later yearsajaremembered being at Gangtok during the pro-democracy movement in Sikkim when he was caught along with thousands of other protestors and kept captive at Pallor Stadium. He persisted that he belonged from Kalimpong but the CRPF (Central Reserve Protection Force) were not interested on his words, they replied all Nepalese are to be kept captive wherever you belonged to. For 15 days protestors were not allowed to move from Pallor Stadium. The entire day they had to chant "long live Indira Gandhi". After democracy was restored in Sikkim, everyone was freed.Another interesting thingajatold me was about the famous brotherhood treaty 'paper' signed between Lepcha and Bhutia. He told till mid 80s he had heard the original document was kept in "private office" at Gangtok. It is noteworthy that there is nowhere about of the document of the famous treaty and where this "private office" is situated at Gangtok sounds pretty exciting.
Married to Hiramaya

Pradhan

, he had two son and five daughters and a dozen grandchildren and great grandchildren. He had many anecdotes to be written but that ended along with him. What I collected from him in two days is a merely a small part of that lost knowledge house. Aja wanted to me to write a small story of his experience. Though his wish gets unfulfilled, I place here what he told me as he wanted these anecdotes to be heard by others too.