Almost 9 million have been turned according to the official True Blood Facebook fan page.  This month their profile picture features none other than Pamela Sywnford De Beaufort, the sarcastic and fashionable progeny of Eric Northman (Alexander Skarsgård). Her portrayer Kristin Bauer van Straten posted about her delight at learning the news this afternoon on Facebook. But then asked if True Blood Facebook fans knew she was on Facebook as well: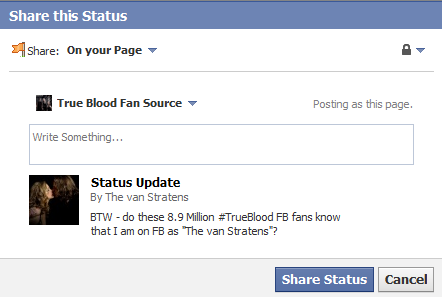 Kristin is on Facebook under "The van Stratens." Click here to visit the page and "Like Her." She has close to 13,000 fans but could always use more! She's also on Twitter as @BauervanStraten.
So now you know! These are most definitely her official social networking pages so please be sure to follow her and spread the word.
Source: Facebook.com- "The van Stratens"
Image Credit: Facebook