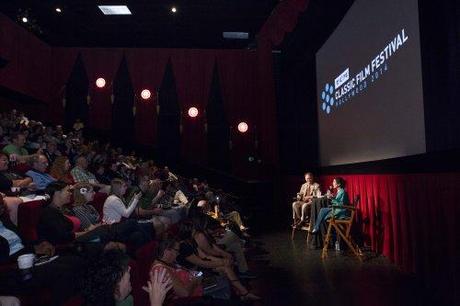 Photo courtesy Getty Images. That's me in the second row with a flower in my hair. Jessica of Comet Over Hollywood is to my left, Carley of The Kitty Packard Pictorial is on my right.
Just a few days before the Turner Classic Movie Classic Film Festival kicked off, the film world lost one of its biggest legends — Mickey Rooney.  Mickey had attended the festival in previous years and although he wasn't there physically this year, his presence could still be felt very strongly.
During his press conference on the first day of the festival, Ben Mankiewicz was asked about his experiences working with Mickey.  The last time Mickey was on the TCM Cruise, he had been scheduled to do four Q&A sessions.  After doing three of the sessions, he was taken ill.  Although it was nothing too serious, given his age, doctors and TCM staff agreed it was best to cancel the final session.  Not being able to do that Q&A session broke Mickey's heart.  He asked Ben to come see him in his room and Ben arrived to find Mickey with tears in his eyes.  This was after the news had broken about Mickey being a victim of elder abuse and he had testified before a US Senate committee about it, so for him to be able to go on the TCM Cruise and be among people who appreciated him meant the world to him.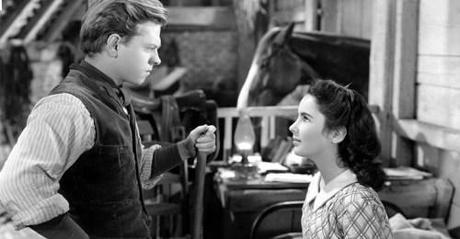 The main tribute to Mickey Rooney came Sunday morning with a screening of National Velvet with Mickey's long-time friend Margaret O'Brien in attendance.  Everything about the tribute was very thoughtful, heartfelt, and moving.  National Velvet was chosen as the movie to show because in his autobiography, Mickey said the line, "What's the meaning of goodness if there isn't a little badness to overcome?" resonated so strongly with him, he wouldn't mind it being his epitaph.  Margaret was wearing a beautiful green outfit, which she had recently worn when she had dinner with Mickey on St. Patrick's Day. Mickey really liked that outfit so she decided to wear it again for this tribute.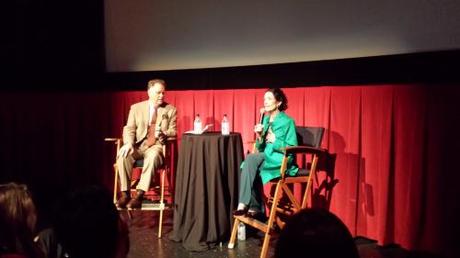 One thing Margaret really emphasized is that for the last two years of his life, Mickey was in good hands.  He was being cared for by people who really had his best interests at heart.  She also spoke of his love of animals and how he enjoyed painting, writing poetry and limericks, and watching the news and Turner Classic Movies.  Mickey and Margaret were working on a movie together, an adaptation of "Dr. Jekyll and Mr. Hyde," just before he passed away and he was still as passionate about acting as he ever was.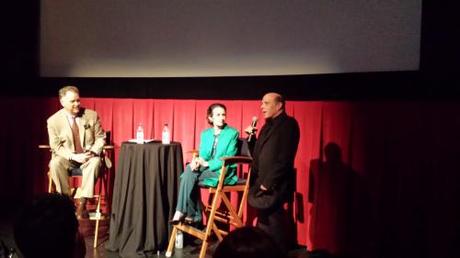 Eddie Muller of the Film Noir Foundation was on hand to lead the discussion. There was also a surprise guest appearance by Joey Luft, son of Judy Garland, who escorted Margaret into the theater.  Joey kept a pretty low profile and let Margaret and Eddie take the lead.  After Margaret was seated, he stood off to the side, but there was one moment when he had to jump in.  Since Mickey enjoyed writing poetry, Eddie wanted to read a poem Mickey had written called "Flesh and Bones" while a picture of Mickey was displayed on the screen behind him.  For some reason, the picture wasn't coming up on the screen. That's when Joey came back out and told the story of how there was a similar problem with a projector at his father Sid Luft's memorial.  Mickey, being the professional that he was, kept things going at that moment by getting up and talking about Sid and Judy's relationship.
The poem "Flesh and Bones" was lovely.  It was a really poignant and honest look back on his life and how even though he wasn't perfect and with all the ups and downs he encountered in his life, he did the best he could.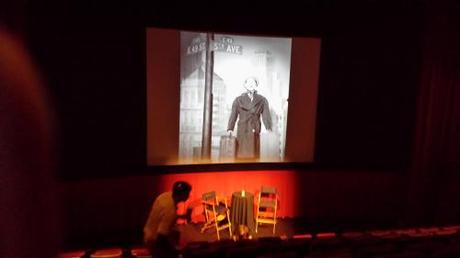 The picture of Mickey came up on the screen as we were leaving the theater.