"Jim, a plane hit one of the trade towers in New York". That was the first words I heard about the planes hitting the towers. I was at Brandeis University in Massachusetts performing a routine audit of my staff that worked there. One of the Brandeis employees, a great guy named Joe, was walking by the area I was in. I looked up from some papers that I was writing and the first words I spoke about it were," Was it a small plane or a commercial jet?" I have no idea why I asked that. He answered that he wasn't sure because someone else told him about it. He continued walking by and I went back to writing. I remember thinking I hope it was a small plane if not a lot of people on the plane are going to die. Little did I know!! 

A short time later Joe came back and said that now a second plane had hit the other tower and that they were commercial jets. He just stopped and looked at me as if either the implications just hit him or looking for answers from me. I just said, "Terrorist?"- one word but it was said as a question. Joe shook his head and continued on his way. I needed to find out more and walked into the kitchen area. I saw a women who worked there and she asked me the same question Joe had asked. Had I heard? I replied that I had, two planes had hit the towers. She said yes and one hit the Pentagon and the White House. This last one was not true but as in cases like this there are misstatements made and then repeated. I knew there was a large TV up in the student lounge and started running up the staircase. When I reached the lounge it was packed with students, educators and staff standing, sitting and kneeling watching the screen. I saw that the two towers were smoking. I remember seeing a helicopter circling above the towers and I thought that they might be preparing to land on the roof to rescue some of the people. I had a vague memory of that happening during the bombing of the towers a few years before. Within minutes of watching this is what I saw.
I remember looking around at the other people watching to see if they had witnessed what I just did. In disbelief I looked around the room then back to the screen and then back around the room. What was I looking for? I have no idea. Maybe I just couldn't watch the destruction.  Looking around at the faces of these young people, some now crying, some staring at the screen mouths open, eyes wide, I found no relief from the pain and horror. It was both on the screen and in their faces. 
Suddenly something hit my knee almost buckling it. I looked down and saw a young boy wearing a Yamaka on his head. I noticed the hat because that is what I could see. He was kneeling with his head touching the floor in front of him. I could hear a low guttural moan coming from him which then broke into a painful cry. His friends ran to him, holding him trying to comfort him in their shared grief. Then the second tower collapsed and the horror doubled. I remember hearing estimates that as many as 10,000 people were in the towers and no one was sure how many got out!! After awhile I left the room walked outside and called Phyllis at her school. I knew she was safe but I needed to hear her voice. She told me she had watched what was happening on her janitor's TV. You could hear the same tone in her voice that I heard in everyone else's including mine; a mixture of great sadness, shock and fright. What was going on? I told her that I had heard the Pentagon had been hit and she said she had heard the same. I asked if they were letting the kids go home early and she said she didn't know yet. We said we would speak to each other later that day and that we loved each other and hung up. Brandeis University is the largest Hebrew school of its type in the US and the people were always worried about possible attacks on it. That thought went through my mind as well, I would imagine, as most others there that day.When I reached my office, I received a call from a young women who worked for me. She was crying and telling me she had to go home because her aunt worked at the towers and she didn't know what had happened to her. She needed to be with her parents. I was one of the lucky ones because that was as close as my family and I would come to knowing someone at the towers. We found out that the young woman's aunt was lucky. Her shift wouldn't start for a few hours and she was getting out of the subway train just after both towers went down. She was safe!!When I arrived home I put the TV on and it stayed on all night. As  we watched, we heard reports on who was responsible and the estimated deaths. Phyllis went to bed around 10PM. I stayed glued to the TV watching, hoping for news of survivors found and lives saved. It didn't come! I heard that the country was in a no fly zone for the rest of the night. At least that was something. Around 11:30 PM, I shut the TV and went into our bedroom. In the dark as I started getting into bed, I heard the sound of an airplane above!! I knew it was the military keeping guard over our country as we slept but for a second, I worried. I knew it couldn't be an enemy plane, right?? Then the realization hit home for the first time. Things had changed and would never be quite the same again. For a second, no matter how brief, I had worried that an enemy airplane might be flying over the skies of Melrose (a typical little town America).  I slept good that night mostly from exhaustion. I felt like I had worked a 12 hour shift in construction. The next day on the way to work, you could see changes. US flags were everywhere; the backs of car windows, propped up in the back of pickup trucks and hanging in windows of office buildings. A new era of heightened patriotism was about to begin. You heard patriotic songs everywhere, many old but also some new ones and not just on country western stations but everywhere. I also couldn't help but notice that we were all treating each other with a little more respect, just being nicer to each other! Doors were being held  open for other people, no cars horns were blasting away in anger and no one finger salutes were being given. We were healing and we needed each other and we were family; a family of United States citizens, who wanted revenge and to feel safe. Later that week Phyllis and I decided to go to New York City. We wanted to pay our respects and to see first hand what we were seeing on TV. We drove out early on September 21st and reached  New York and our hotel about 11 AM. I remember getting out of our car in front of the hotel and thinking that it was a bad day for photography. Bright sun filtered through hazy skies. There was no blue skies today!!! We went to our room, took out our cameras and left to see how close we could get to ground zero. We thought we would not get too close but we were going to see what we could. On the way down in the elevator, there was Phyllis, me and a firefighter from our state.  No words were said but just before we reached the lobby I said, "Thank you". That's all, just two words. He looked at us and said, "You're welcome but I'm just doing my job." He smiled and as we left the elevator, all I could think was, This was the attitude of over three hundred firefighters who ten days earlier had lost their lives just doing their jobs. Those who went up when others were going down the stairwells.We went to the subway and found the train that would take us to Broadway. Ordinarily I would not be on a New York Subway with an expensive camera but I felt safe that day in New York and I was! When we arrived and went up to the street, we were greeted by these images hanging on the wall right outside the subway entrance.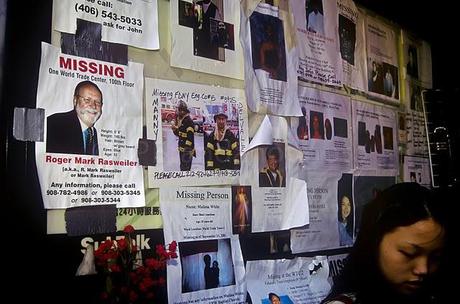 A stark reminder of the people lost that day!! By the way, I checked on Google recently for the names of some of the people on these posters. They all died on 9-11. You see that young women in the shadows? See her face? That is the expression we saw all day. No smiles this day and not for awhile would there be smiles.We started walking down Broadway towards the intersection of Liberty and Broadway. We reached a certain point where we found what we thought we would, the street was blocked off. We saw that people were walking to the left and then were taking the next right heading in the direction we wanted to reach. We followed and after awhile found ourselves back on Broadway, not knowing exactly where we were. There were many people walking with us. We were all on the sidewalk on the right side of the street because the other sidewalk was off limits. There were rows of people 5 or 6 across, blocks long walking slowly. Phyllis and I mentioned how quiet and polite everyone was being. At a certain point we could start seeing signs of the destruction.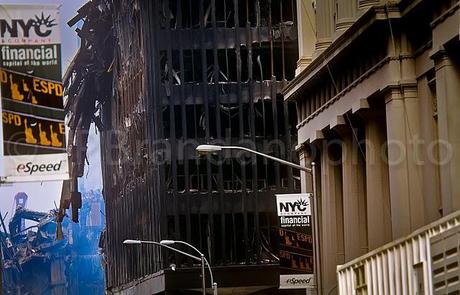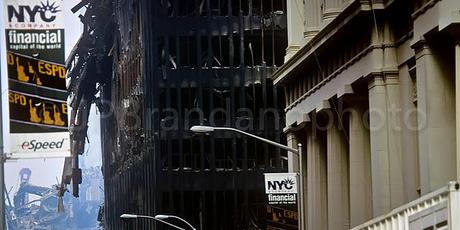 We could also see stores with windows blown out, covered in dust; the remains of the towers and the people in those towers.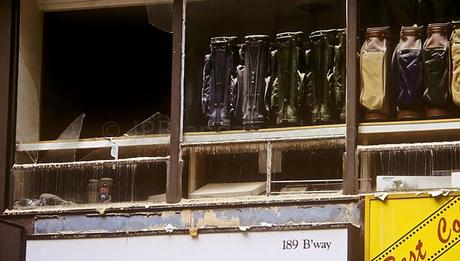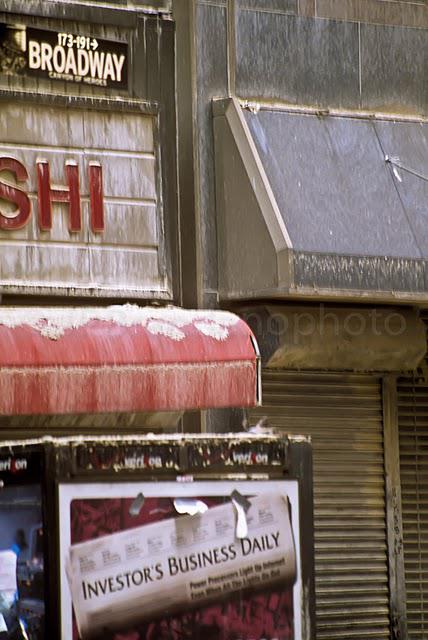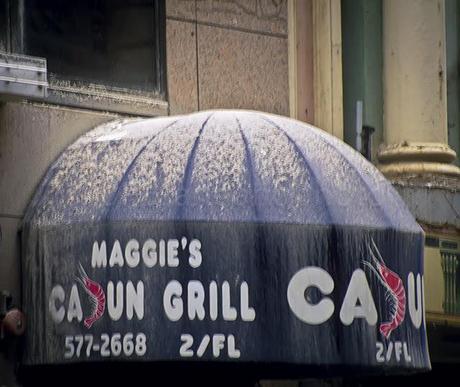 I need to say that we were not used to photographing anything like this. We photograph happiness, joy and beautiful things. There was none that, that day. I do not think I did as well as I could have. I could not separate the photographer from the citizen who was hurting like all the other US citizens. I passed up some shots of people that I should have taken and I'll talk about that more in Monday's blog1As we walked on, we saw more of the rubble as we looked down side streets.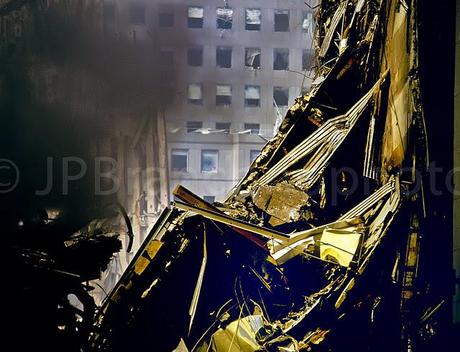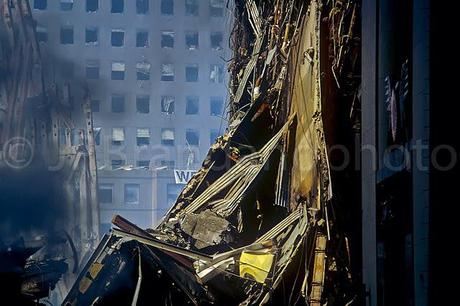 All I could think of was that there were people sitting and standing on this material as the towers collapsed. At one point I looked up and saw these street signs. We had reached Ground Zero or as close as anyone could that day.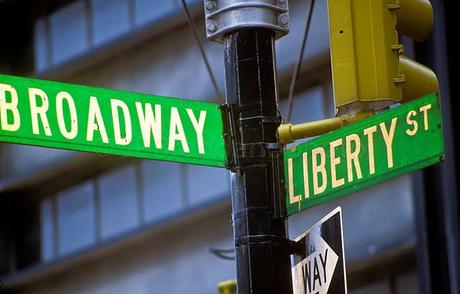 In front of us was where the towers had stood proudly until the planes hit. Now neighboring buildings stood with windows blown out and the signs of death and destruction all around. Smoke was still rising from the areas!!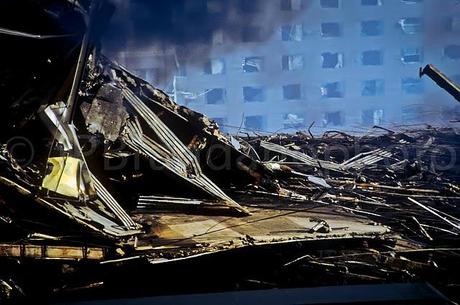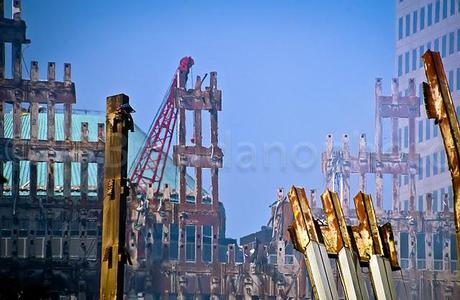 Some more images from that day!!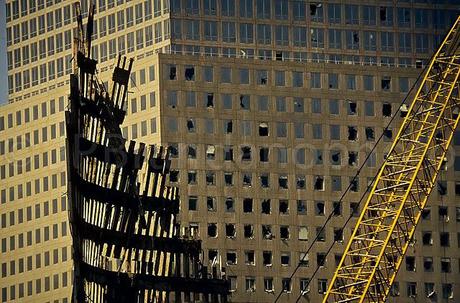 In the image below, you can see men working on cleaning up and searching for survivors.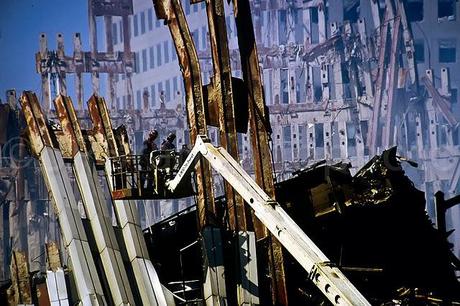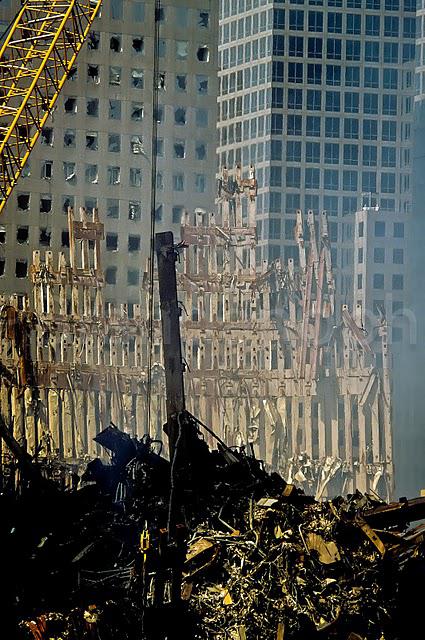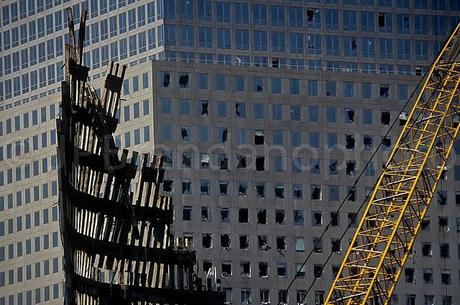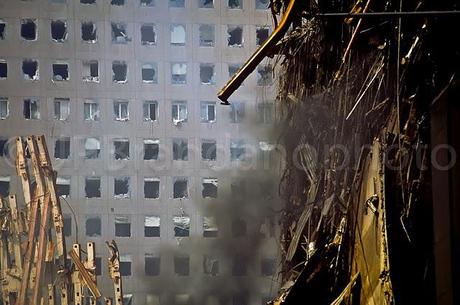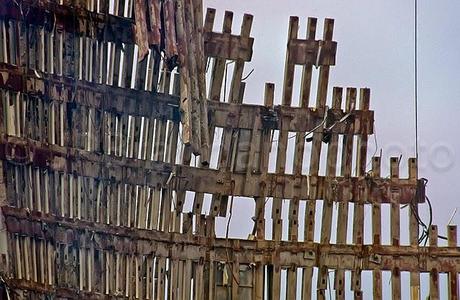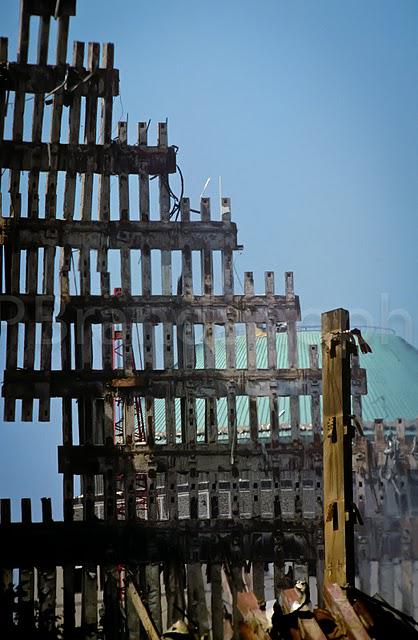 In this image you can see a US flag hanging from a beam, placed there by some workers. People who have seen this image and the number two on the ribs have asked if that signifies Tower 2. I really don't know. It could be or it could be a number put there during the construction for some reason.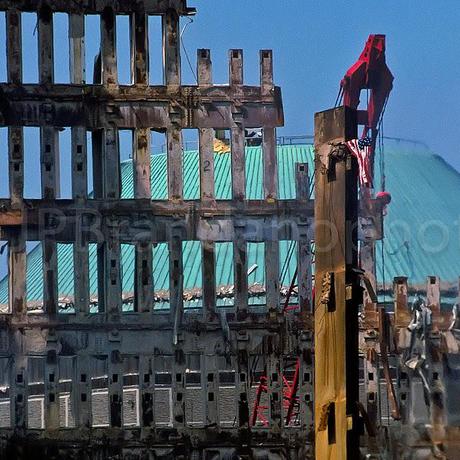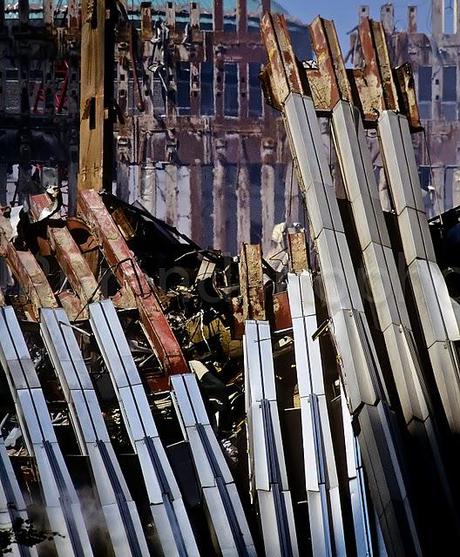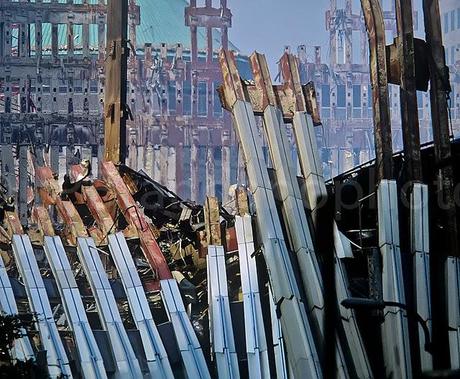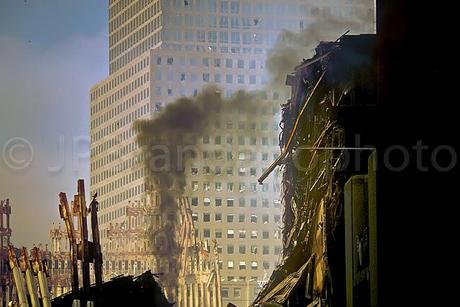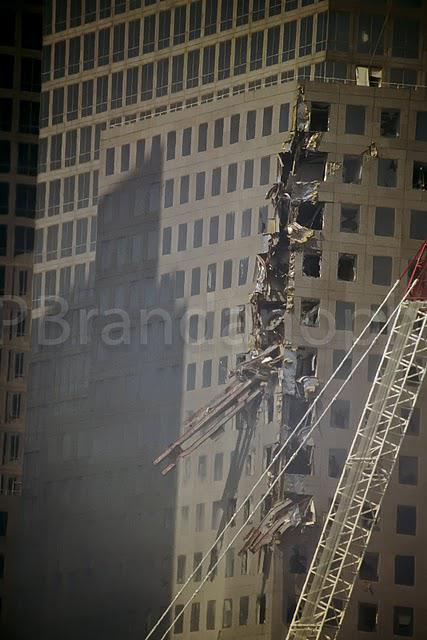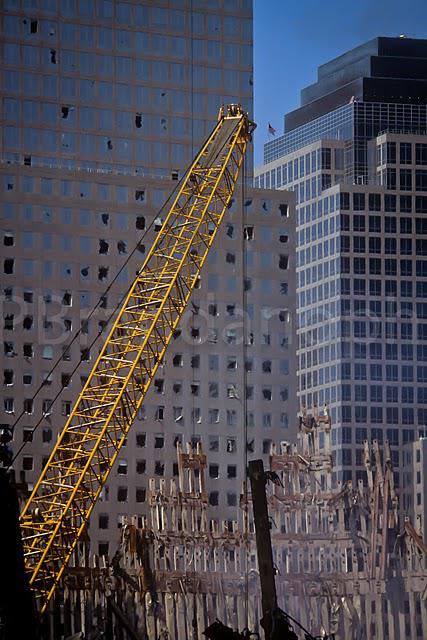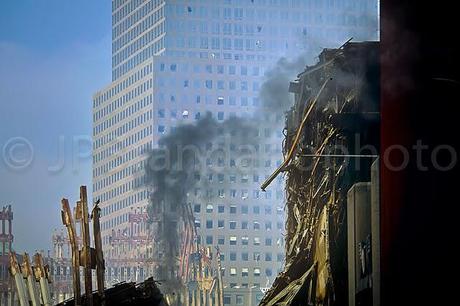 The US flag was seen in many places that day but the ones at Ground Zero were the most poignant for me. This image of one of the surrounding buildings standing tall with the flag proudly displayed and the next image, just tugged at my heart, making me  proud to be an American!!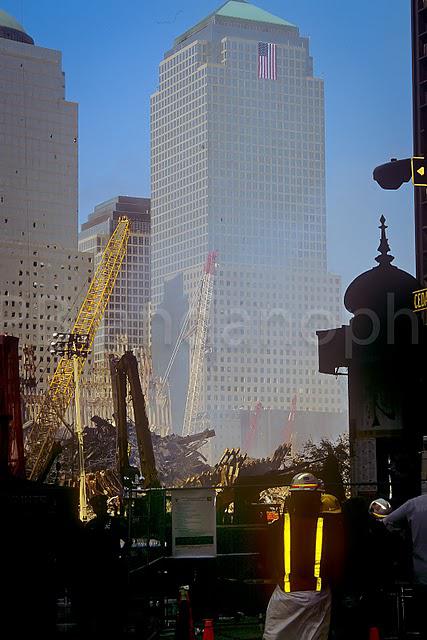 When I saw this, I smiled and felt very proud of this country and it's people, especially the first responders and the people working at Ground Zero. Amid all this destruction and sadness, there was a salute to the people who were gone but never forgotten.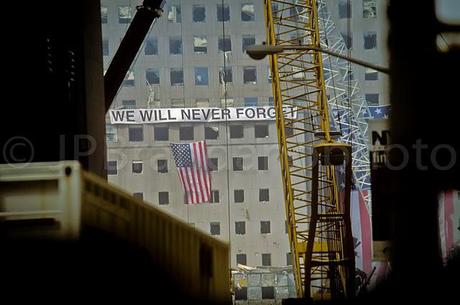 I am proud of many things; Phyllis, my family, being of Italian descent and fiercely proud of being an American. Those planes killed thousands, hurt our economy and our national psyche but we are Americans and we will come back just like Ground Zero is coming back.  As our President said we are bigger then our problems!! See this link to see the new Tower!