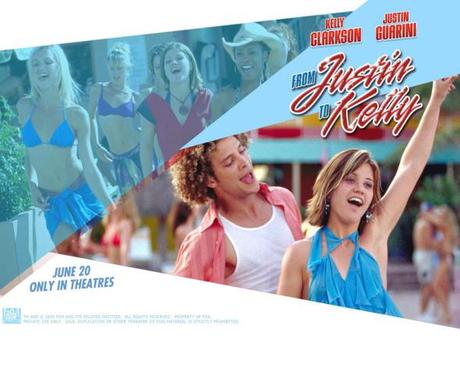 Photo Courtesy: http://www.wallpaperslot.com
Today, the Encore channel made my day and decided to show the classic film From Justin to Kelly. This 2003 musical romcom stars Kelly Clarkson (aka America's Idol) and Justin Guarini (America's runner up Idol) and it tells the tale of two spring breakers who are into each other, but obstacles keep popping up and block their love. It's literally frustrating.
Don't remember this spring break classic? The trailer will surely refresh your memory:
In case that piqued your interested, the movie is roaming around on the web just waiting to be watched for free! But before you type that in on Google, I'll be honest, From Justin to Kelly didn't do so well at the box office. The movie only grossed $4,922,166 to be exact. The critics considered this movie a total fail and it's considered one of the worst movies of all time.

Now, I'd like to note that American Idol's legal team made Kelly and Justin go through with this. I'm hoping they had a blast and partied like they were on spring break…because some parts of this movie are a bit awkward. It's totally clear that Kelly and Justin were not into each other in a romantical way whatsoever. But there is one good part to this movie…all the great musical numbers!
 Here is my favorite jam from the movie's soundtrack. It's called Timeless and this clip is the duo performing it live!
I'd like to note that I'm not completely delusional. I know this movie isn't the greatest, but can't we all just sit down and enjoy it for what it is? You can't blame Kelly either…it's not like she tried out for an acting show, I mean Kelly Clarkson was on American Idol. Girl knows her strengths.
If you ever find yourself in a situation where this movie is on the TV, I'd recommend creating your very own drinking game. You can get real wild and enjoy America's Idol.
P.S. If you want to know how I really feel about American Idol, please read my post! It really is all Seacrest's fault.