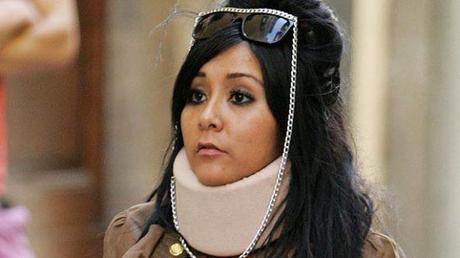 Photo Courtesy: autos.aol.com
Well, it looks like the party is officially over. Just 19 months after birthing her first child Lorenzo, Snooki…I mean Nicole Polizzi has announced she is with child number 2.
Snooks announced her pregnancy via her website, saying "Jionni and I are so excited to confirm that we are expecting our second child! Now knowing that our test results are good and our baby is healthy, we can finally talk about it!"
This is the third and final nail in the coffin that was Snooki. The first nail was getting pregs with baby number 1. The second nail was Snooki's announcement that she didn't want to be called Snooki anymore. Ugh. The third nail is this second pregnancy announcement. Things will never be the same. I'm heartbroken.
I know I should be happy for Snooks and Jionni, but I miss the old Snooki who wondered "where's the beach?" and drank until her legs wouldn't work. Am I the only one that misses those days?! So with this post, I would like to relive the good ole' Snooki days.
Where's the Beach?!
Let's be honest, who hasn't been on the boardwalk and wondered where the beach was? I think the best part of this scene was that even though JWow and Deena finally caught up with Snooks, she still managed to slip out of their grasp and face plant into the sand.
I'm just glad that one time I was looking for the beach was caught on film.
The Meaning of True Friendship
Who remembers when the meatballs roamed the Shore? I will never forget Snooki and her bestie Deena cruising for dudes and drinking booze. I mean, what else is there to do when you're on vacation?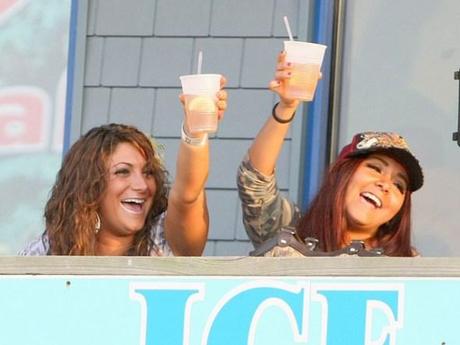 Photo Courtesy: http://www.ivillage.com
Some of the Meatball quotes that will stand the test of time:
"It's only, like, Jersey girls that can dance so hard their underwears come off." – Deena
 "Everybody Google it. Because that's why the water is salty. From the f**king whale sperm." – Snooki

"I just didn't want my cuca to come out." – Snooki

"Doing eyelashes when you're buzzed is not a good time." – Deena
Putting Fashion Above All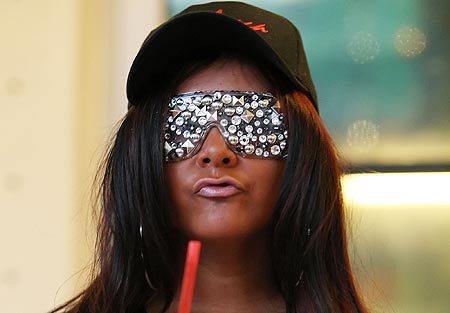 Photo Courtesy: http://www.blinkoptic.com
Remember back in Miami when Snooki bought these sweet shades? She was so committed to fashion that she would rather be blind than look like a fool. "The glasses are pretty much all crystalled out, all bling-bling, but when you put them on you can't really see. . . so I don't think you can't drive with them. . . because you'll get a ticket," said Snooki. Who wants to bet she tried to drive with these on?
Snooki, I understand you're a grown up and have a family, but can't you let loose a few times a year (and let MTV film it)? I mean, who is going to teach me what to wear and new ways to refer to my cuca?
There are many, many more classic Snooki moments, please share your favs!