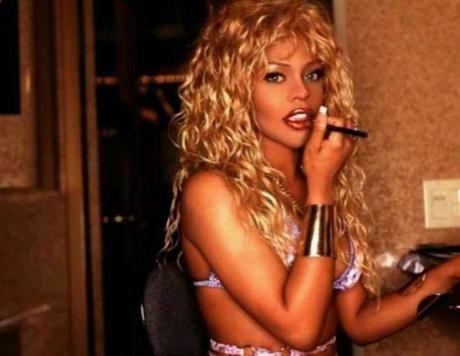 Photo Courtesy: http://www.blackenterprise.com
Yes, before Beyoncé was Beyoncé.
Growing up, Lil' Kim was the first celebrity I thought was a boss before I even knew what the word boss meant (Sorry, Brit). I did idolize Lil' Kim for a number of reasons, mostly because she did whateverrr she wanted and pulled it off. 
I believe it was last year's VMAs when Lil' Kim came out of hiding to present. I was beyond pumped. The words Lil' Kim is backkkkkkkkk was scrolling through my brain. After Queen Bee stepped off stage…I felt sad. She just was the same baddest bitch that I remember.
In order to relive the good old days, listed below are my three most memorable baddest bitch moments.
3. Spending Some Quality Time in the Slammer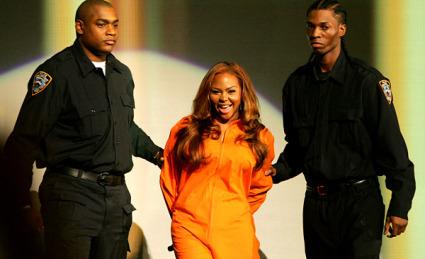 Photo Courtesy: http://www.mtv.com
You don't get to be a bad bitch without having a stint in jail…just ask Lindsay. Back in 2005, Lil' Kim was sentenced to a year and a day in jail and fined $50,000 for lying in regards to a shootout outside a radio station in Manhattan.
Allegedly Lil' Kim lied about whether two members of her entourage were at the scene of the shootout. I say allegedly because I know Queen Bee would never lie like that! Check out her comeback at the 2006 VMAs.
2. Putting the Range in Da Rover
This song never gets old. I also think it's one of Kim's most well-known jams. The jam, which can be found on La Bella Mafia, was produced by Timberland and features a Mr. Cheeks.
This song includes a number of controversial lyrics, including one about a Sprite can…but my favorite lyric of all time is: I'm the one that put the "Range" in the "Rover." It has become my mantra.
1. Purple Pasty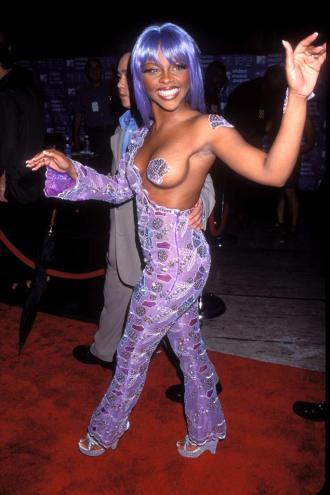 Photo Courtesy: http://www.nydailynews.com
Ah yes. You all know what I'm referring to. Let's go back, back to the 1999 VMA Awards. Lil' Kim rolls onto the red carpet with basically an entire breast exposed…I think she was going for that mermaid look. That outfit choice took a lot of guts and I'm still wondering what kind of glue she used.
This outfit is not only memorable for the whole boob exposed thing, but also for the fact that Lil' Kim was felt up by the one and only Diana Ross. Can't remember? Don't worry, here's the video.
Ok, so there are my most memorable Lil' Kim moments. Please share your favs…let's relive the glory days together.