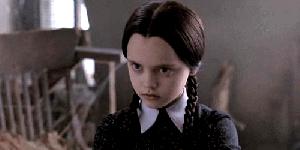 Photo Courtesy: listal.com
For the final installment of my favise Christina Ricci movies, I have chosen…"The Addams Family." Cue theme song.
"The Addams Family" started out as a cartoon by Charles Addams written for "The New Yorker." It has grown from a cartoon into a TV series, movies and even a broadway show.
Ricci played the infamous character known as Wednesday Addams. Let me just say, Christina had the best skin tone and hair color for this character…it was a role she was born to play.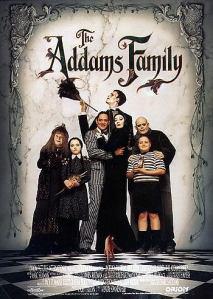 Photo Courtesy: media.photobucket.com
The character of Wednesday was first introduced to the world in 1938 and inherited her name from a nursery rhyme titled, "Monday's Child." The line goes as follows: "Wednesday's child is full of woe." If you have ever seen the Addams Family movies, you probably thought to yourself, "sounds about right."
An interesting fact about this character…Wednesday's middle name is Friday.
Wednesday offers up some hil.ari.ous quotes throughout the film. For example:
"Girl Scout: Is this made from real lemons?Wednesday: Yes.Girl Scout: I only like all-natural foods and beverages, organically grown, with no preservatives. Are you sure they're real lemons?Pugsley: Yes.Girl Scout: Well, I'll tell you what. I'll buy a cup if you buy a box of my delicious Girl Scout cookies. Do we have a deal?Wednesday: Are they made from real Girl Scouts?"
With a budget of $38 million, "The Addams Family" grossed $191,502,246 worldwide. Seems that Christina hit another one out of the park with this film!
While I know this is a clip from "Addams Family Values," it's too good to pass up: