The President of the Happy Swine Processed Meat Company was not having one of his better days. He sat at his desk, atop which stood an anthropomorphic plastic sausage, the company's mascot, head in his hands. There was a knock at the door and in walked the President's assistant.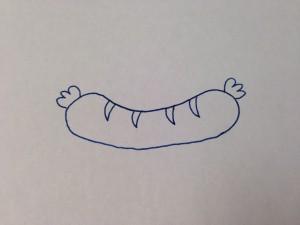 "Sir, I came as soon as I heard," the assistant said. "I knew we could never trust the World Health Organization. And after all the nice things we said about it. How dare they say that
eating processed meats causes cancer
? That should be a matter of personal choice."
The President shook his head. "No, it's over." He looked at the mascot, a sausage beaming a huge smile. "We are just going to have to find a different way to bring people the magic of processed meat."
The marketing campaign for the "Desk Sausage" was received initially with skepticism. The idea of a having a real sausage on your desk to keep your papers from flying off was seen as rather unorthodox, especially since the sausage would leave little grease stains on anything it touched. Yet thanks to a couple of intrepid celebrities, within weeks everyone had a Desk Sausage on their desk.
"I don't know how I got anything done without it," said one customer in one of those candid customer commercials. "I can't explain it," said another. "It just makes you want to do more work." Said a third, "The Desk Sausage has changed the way business is done. We recommend it to all our clients."
Soon the Happy Swine Processed Meat Company branched out into other products, making Desk Bacon, used to cushion one's elbows from an especially hard desk surface, and Desk Salami, which was pulled out of dispensers like Post-It notes, and used as bookmarks, or placed between the fingers as a way to reduce stress during a hectic day.
One could travel the entire country and not find an office untouched by Happy Swine office products. As people lunched on kale, beet greens and chard, they had sausage, salami and bacon keeping their work space organized and chic. Desk Hot Dogs were particularly good monitor risers, and the gift that everyone wanted that holiday season was the 2016 Corned Beef Planner, known for its distinctive cover and briny pages.
By the following year, Happy Swine office products were global. It shipped to more than sixty countries, and its products were known for surviving even the longest and most difficult journeys without a single change in appearance. So successful was the transition, that people forgot that processed meats had once been sandwiched between slices of bread instead of staplers and paper clip caddies. Happy Swine was more successful than ever, and it now praised the World Health Organization, for breathing life into a dying company.
And then the World Health Organization released its report on kale, and Happy Swine's unchallenged domination of office gear was at an end.